Vacant property registration bill advanced
A measure intended to help cities address the problem of vacant properties was advanced from general file Jan. 31.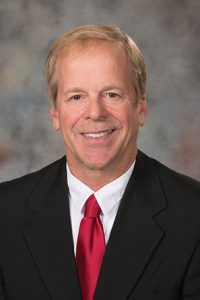 Albion Sen. Tom Briese, sponsor of LB256, said the bill would provide communities an additional tool to address problem properties and housing shortages. Existing nuisance ordinances have limited application for vacant properties, he said, which can hinder economic growth and are a concern for many small communities.
A 2016 report by the Nebraska Chamber of Commerce indicated that 70 percent of Nebraska communities face a housing shortage, he said, but housing vacancy rates often exceed 10 percent. Vacant properties can lead to increased crime and vandalism and lower property values, he said.
"Municipalities across our state find themselves bearing the cost of properties that remain vacant for extended periods of time," Briese said.
Under the bill, which was introduced last session, a municipality could adopt an ordinance that would allow it to identify and register vacant properties, collect fees to compensate for the public costs of property vacancy, plan for rehabilitation and encourage occupancy. The registry could apply to commercial or residential property.
If adopted, a vacant property registration ordinance would require registration of a property vacant for 180 days or longer. An initial registration fee of no more than $250 for a residential property and $1,000 for a commercial property would be assessed. Supplemental fees would be allowed and exemptions to the fee requirement could be provided.
Unpaid registration fees and fines would become a lien on the applicable property upon notice to the county.
An Urban Affairs Committee amendment, adopted 31-0, would:
• require that an ordinance exempt vacant properties that are advertised in good faith for sale or lease;
• clarify that an ordinance would apply only to buildings located within a city or village's corporate limits;
• specify that the act's provisions are supplemental to and in addition to any existing state laws relating to vacant property;
• allow an ordinance program administrator to designate another individual to conduct inspections of vacant properties; and
• give property owners the right to prior notice of and the ability to appeal adverse decisions by the municipality or the ordinance program administrator, with notice to be sent by certified mail.
The amendment also would exempt metropolitan and primary-class cities from the bill's provisions. Omaha is the state's only metropolitan class city and Lincoln is the only primary-class city.
Omaha Sen. Justin Wayne, chairperson of the committee, explained that both Lincoln and Omaha already have authority under their charters to establish vacant property ordinances.
Bellevue Sen. Carol Blood spoke in favor of the bill, saying vacant properties are a significant strain on the budget of municipalities and are a drain on the value of nearby properties. The ability to enact local ordinances could help cities and villages speed up the process of addressing such properties, she said.
"This is long past due and I think it's going to save taxpayers a lot of money," Blood said.
Sen. Mike Groene of North Platte also supported the bill, citing a vacant hotel in the center of North Platte as an example of a problem vacant property. City leaders have not been able to locate the building's owners, he said, and redevelopment of the property has stalled as a result.
"We're sitting with a hotel that's a fire hazard and we have developers that want to develop it," Groene said. "We have no key to the front door. We need more tools to make people take personal responsibility."
Columbus Sen. Paul Schumacher raised concerns that the bill could result in cities acquiring buildings that they cannot find buyers for or afford to tear down, by simply levying excessive fees.
"I recognize the need, but I don't see how this solves anything other than putting title in the city's name," Schumacher said "And probably, if the city would have asked, the owner would have signed a quitclaim deed and given [the property] to the city because it's not worth the aggravation."
Sen. Kate Bolz of Lincoln also expressed concerns, saying she could not vote to support the bill although she appreciates the intent.
"To me, I see opportunities for more fees and fines, more requirements on property owners and a concern that those requirements will lead to increased valuations and increased property taxes," Bolz said.
LB256 advanced to select file on a vote of 40-0.