Day five bill introduction
Senators continued to introduce new bills Jan. 9.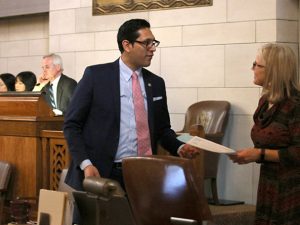 Among the 30 bills introduced were:
LB915, introduced by Ralston Sen. Merv Riepe, which would change prohibitions on using handheld wireless communication devices or handheld mobile telephones while driving;
LB916, introduced by Lincoln Sen. Matt Hansen, which would prohibit retaliation under the Nebraska Wage Payment Collection Act and the Wage and Hour Act;
LB921, introduced by Kearney Sen. John Lowe, which would create a licensing exception under the State Electrical Act for certain farm building construction;
LB922, introduced by Omaha Sen. Tony Vargas, which would adopt the All Kids Health Care Program Act;
LB925, introduced by Lincoln Sen. Patty Pansing Brooks, which would change provisions relating to certain sex crimes and crimes against children;
LB926, introduced by Bellevue Sen. Sue Crawford, which would exempt members of the armed forces on active duty and their spouses from motor vehicle taxes;
LB927, introduced by Omaha Sen. Sara Howard, which would change provisions relating to juvenile out-of-home placement, care and custody;
LB929, introduced by Gordon Sen. Tom Brewer, which would state the rights of Nebraska National Guard members and provide that a residential address may be withheld from the public;
LB934, introduced by Heartwell Sen. John Kuehn, which would require identification prior to receipt of dispensed opiates; and
LB938, introduced by Gering Sen. John Stinner, which would change provisions relating to the transfer of excess general fund net receipts to the Cash Reserve Fund.
A complete list of bills introduced thus far is available at NebraskaLegislature.gov. New bills may be introduced for the first 10 legislative days, or until Jan. 18.
Gov. Pete Ricketts' State of the State address is scheduled for Jan. 10 at 10 a.m. Supreme Court Chief Justice Michael Heavican will give the State of the Judiciary address Jan. 18.
The session will last 60 legislative days and tentatively is scheduled to adjourn April 18.