Veto of ex-felon voting bill sustained
An attempt to override the governor's veto of a bill to immediately reinstate an individual's voting rights upon completion of a felony sentence or probation fell short May 8.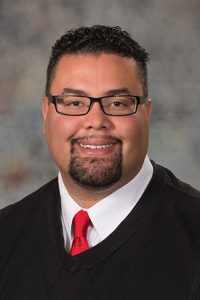 LB75, sponsored by Omaha Sen. Justin Wayne, would have removed a current two-year waiting period in state law before former felons can vote. Senators passed the bill April 24 on a 27-13 vote.
In his April 27 veto letter, Gov. Pete Ricketts said that requiring convicted felons to wait before allowing them to vote provides an incentive to maintain a clean record and avoid subsequent convictions. Studies have failed to demonstrate a link between the restoration of voting privileges and reduced recidivism rates, he said.
In addition, the governor expressed concern that restoring the right to vote via state law would contradict a process set out in the state constitution. The sole power to restore civil rights lost by someone who is convicted of a felony is granted to the state Board of Pardons, he said.
Wayne said the bill is not unconstitutional. A pardon restores all civil rights, he said, while LB75 is more limited in scope.
"We are not restoring all civil rights as defined by our Nebraska Supreme Court," he said. "We are restoring one political right and that is the right to vote."
Crete Sen. Laura Ebke supported the override motion, saying revocation of the waiting period would demonstrate the Legislature's commitment to criminal justice reform. She noted that lawmakers passed another bill this session allowing ex-felons to carry deadly weapons for recreational and hunting purposes. Senators should be equally willing to trust former felons with a pencil and paper at the ballot box, she said.
"It's good policy not to take civil rights away from people if they've paid their debt to society," Ebke said, noting that the state attorney general declined her request to issue an opinion on the constitutionality of LB75.
Sen. Ernie Chambers of Omaha said the Legislature has the plenary authority to legislate on any issue not expressly forbidden by the state constitution. If members of the executive branch of government wish to challenge that authority, he said, they are free to do so in a court of law.
Lincoln Sen. Adam Morfeld also supported the override motion. If removing the current two-year ban is unconstitutional, he said, then moving from the previous lifetime ban to current law also should have been deemed unconstitutional – but no one has challenged the current law.
"It makes absolutely no sense," Morfeld said.
Sen. Lydia Brasch of Bancroft said she would not vote for the override motion because newly released felons should spend the two-year waiting period becoming reacquainted with their communities and the issues that they will be encountering on the ballot.
"Two years is nothing," she said. "Two years goes by so quickly."
But Wayne said that many Nebraskans with felony convictions never set foot inside a jail and spend their time on probation in their communities.
"Our state's felon disenfranchisement laws are at best outdated and at worst rooted in racism, fear and exclusion," he said.
Senators voted 23-23 on the override motion and the governor's veto was sustained. Thirty votes were required.