County-city sewerage agreements advanced
Lawmakers gave first-round approval April 13 to a bill that would enable counties and cities to cooperate to build regional sewerage systems.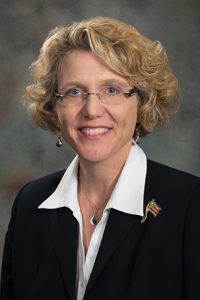 As introduced by Sen. Sue Crawford of Bellevue, LB253 would authorize cities, counties, villages and sanitary improvement districts (SIDs) to enter into agreements to plan, build, manage, operate and finance sewerage disposal systems. It also would authorize any county, city, village or SID to make payments on a sewerage system service agreement by levying a special property tax.
Crawford said Sarpy County has some of the only remaining land in the Omaha metro area that is available for development. But much of that land sits south of a ridgeline that prevents the area from connecting to an existing sewerage system to the north. Development cannot continue unless a sewerage system is built south of the ridgeline, she said, and LB253 is needed so the county and cities can work together to build and operate such a system.
"LB253 offers a regional solution to these development issues that neither Sarpy County nor each of its cities alone can address," Crawford said.
By aiding development in Sarpy County, she added, the state could collect an additional $45 million in sales taxes annually.
A Revenue Committee amendment, adopted 32-1, would authorize counties to use an existing 3.5-cent levy authority under the County Industrial Sewer Construction Act — instead of a special property tax authorized in the original bill — to secure bonds to pay for the new system.
Sen. Jim Smith of Papillion, who supported the bill, said the amendment would ensure that Sarpy County taxpayers could approve any levy increase. He pointed to the recent announcement that Facebook will build a data center in southern Sarpy County as evidence of the need for a sewerage system to support further development in the area.
"As it now stands, the lack of sewer service is impeding growth in Sarpy County on the other side of that ridge system," Smith said.
A Crawford amendment to the committee amendment, adopted 37-0, removed villages and SIDs from the proposed service agreements.
Sen. Tyson Larson of O'Neill opposed the committee amendment, saying that he is concerned that cities north of the ridgeline could be required to pay higher property taxes to support a sewerage system from which they do not benefit.
Also in support of the bill was Speaker Jim Scheer of Norfolk who said LB253 not only would aid growth in Sarpy County but also would help Nebraska as a whole by expanding the tax base.
"If there are no homes to be purchased and there's no development to be made, businesses that are looking at the Omaha area to expand will stop," he said. "If we don't expand the tax base, we all will pay more taxes — it's that simple."
Senators then voted 33-0 to advance the bill to select file.