State preemption of local gun ordinances advanced
Lawmakers continued general file debate April 12 on a bill that would override individual city and local ordinances, making firearm regulations consistent statewide.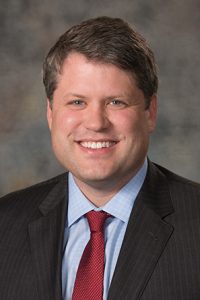 LB68, introduced by Lincoln Sen. Mike Hilgers, would authorize the state to regulate the registration, possession, transportation, transfer and storage of firearms and ammunition. Cities and villages would retain the authority to enforce prohibitions on firearm discharge.
Hilgers said it is a common misperception that ordinances banning firearm possession reduce gun violence. Chicago banned firearms in 1987, he said, and the city's murder rate increased dramatically. The intent behind the bill is not to make cities less safe but to ensure public safety while also protecting the rights of lawful gun owners.
"We have anecdotal data that says citizens face an impermissible choice between having a firearm that is guaranteed to them under state and federal law and breaking [local ordinances]," he said. "Do they break the law and exercise their right to a firearm or do they put themselves in danger and go unarmed?"
A Government, Military and Veterans Affairs Committee amendment, adopted 33-11, would allow a city of the metropolitan class to prohibit handgun possession in public places. Exceptions to the prohibition would include safe transport in a vehicle, possession for instructional purposes and possession by concealed-carry permit holders and military members.
Omaha currently is the only metropolitan-class city in Nebraska.
The amendment also would prohibit the open transportation of handguns and long guns within metropolitan class cities. It would require that openly transported firearms be unloaded and contained within an enclosed case or unloaded and broken down. There would be exceptions for open firearm transport by law enforcement, concealed-carry permit holders, military members and other lawful activity that does not endanger public safety and has received proper legal approval.
Finally, the amendment would require that firearms transported within a vehicle be unloaded and locked up, either in a trunk or a container other than a glove compartment or console. Concealed-carry permit holders and military members also would be excluded from this requirement.
During previous debate, Sen. Laura Ebke of Crete voiced her support for the bill. She said local gun ordinances unfairly target gun owners and take away constitutionally protected rights from lawful citizens.
"I believe our rights to carry weapons ought not be arbitrarily infringed upon by the government," she said.
Omaha Sen. Ernie Chambers and Lincoln Sen. Adam Morfeld offered a series of motions to prevent a vote on the bill. Chambers said inconsistencies in its language would guarantee that the bill is found unconstitutional if challenged in court.
Morfeld said Lincoln experiences gun violence much like Omaha, but Lincoln was not offered a similar exception under the bill. He said the Lincoln Police Department opposes the amended bill because it potentially could prohibit the city from banning firearms in public buildings like city hall or the Pinnacle Bank Arena, as it does currently.
"As a gun owner myself, there is a heightened responsibility to ensure that you're following all laws," he said. "These [local ordinances] are not overly burdensome."
After six hours of debate spanning two days, Hilgers filed a motion to invoke cloture, or cease debate and vote on the bill. The motion succeeded 33-8; thirty-three votes were needed.
Senators then voted 31-13 to advance the bill to select file.