Stronger human trafficking penalties advanced
Lawmakers gave first-round approval March 29 to a bill that would address the increase of human trafficking in the state.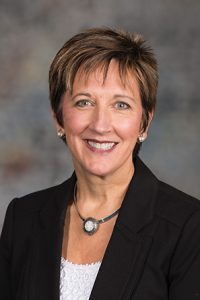 LB289, introduced by Lincoln Sen. Patty Pansing Brooks, would increase penalties for a number of crimes, including pandering and human trafficking for labor or sexual exploitation. The state needs to better protect victims of human trafficking, Pansing Brooks said, and bring justice to people who engage in the practice.
"The human trafficking of women, men and children for forced labor or sexual exploitation is the epitome of modern-day slavery," she said. "This would ensure we send a strong message to those who engage in trafficking that Nebraska will no longer tolerate your inhumane treatment of our people."
Under the bill, the penalties for pandering or trafficking of an adult would increase from a Class III to a Class II felony, punishable by 1 to 50 years in prison. Trafficking of an adult with the use or threat of force would be a Class ID felony, which carries a sentence of 3 to 50 years in prison.
The bill would impose even stronger penalties for sex trafficking offenses involving a minor. Previously a Class II felony, sex trafficking or solicitation of a minor would be categorized as a Class IC felony, punishable by 5 to 50 years in prison. In the event force is used or the minor is under 16, the penalty would increase to a Class IB felony, punishable by 20 years to life in prison.
Finally, the bill would designate solicitation of a trafficked adult as a Class II felony, which could result in 1 to 50 years in prison.
Thurston Sen. Joni Albrecht spoke in favor of LB289. She said the safety of young women in her community is of particular concern to the constituents she has spoken with.
"There are a lot of folks out there, especially single mothers, who are trying to provide and protect for their families," she said. "It's easier than we want to believe for people to get caught up in this."
Sen. Robert Hilkemann of Omaha also supported the bill. He said merely hoping the problem of human trafficking will go away is not enough. Nebraskans need to accept that this is happening in their neighborhoods, Hilkemann said.
"We cannot continue to hide our heads in the sand and say it doesn't happen [here]," he said. "If there are not stronger penalties for this, it's going to continue."
Crete Sen. Laura Ebke introduced an amendment, adopted 41-0, that incorporated provisions of four additional bills dealing with sexual assault and domestic violence.
The first was LB178, originally introduced by Lincoln Sen. Kate Bolz, which would allow a victim of sexual assault to file for civil protection orders against his or her assailant. The order would prohibit the harassing, threatening, assaulting, molesting, attacking or otherwise disturbing the peace of the victim. The order also would prohibit all communication with the victim.
Provisions of LB191, originally introduced by Pansing Brooks, would prohibit the withdrawal of a petition for a protection order except upon order of the court. It also would allow a victim of domestic abuse to file a petition and affidavit to renew a protection order up to 30 days before the expiration of the previous order to ensure there is no gap in protection. A renewed order would be effective for a period of one year, commencing on the first day following expiration of the previous order.
Provisions of LB188, originally introduced by Omaha Sen. Sara Howard, would allow for the parent of a child conceived as a result of a sexual assault to petition for termination of parental rights of his or her attacker.
Provisions of LB394, originally introduced by Lincoln Sen. Adam Morfeld, would prohibit any person who is under a valid domestic violence protection order, or knowingly violates a valid harassment protection order, from possessing a deadly weapon. As amended, any person prohibited from owning a deadly weapon because of a valid domestic violence or harassment protection order could participate in a court hearing where such prohibition is established.
Omaha Sen. Ernie Chambers said the bill's amended language cast too wide a net that could ensnare unknowing citizens. Prosecutors would use the threat of a trafficking offense against people to coerce confessions, he said. Chambers said a patron who tips an exotic dancer could be guilty under the bill, for example, even if he or she is unaware the dancer was a trafficking victim.
"Before you have a serious crime, the person has to knowingly and intentionally commit the crime," he said. "But under the bill, people who have no knowledge of any trafficking offense could find themselves being charged with trafficking."
Sen. Mike Hilgers of Lincoln supported the concept behind the bill, but said he understood concerns about the bill being too broad.
"This is an incredibly important conversation to be having to make sure we're tailoring the language the right way and not catching things beyond the original intent of the bill," he said.
Pansing Brooks said she would work with her colleagues on an amendment to address concerns about the bill's language. Senators voted 42-0 to advance LB289 to select file.