Alternative response for low-risk child welfare cases amended, advanced
Lawmakers advanced a bill March 23 that would extend an alternative response pilot program and allow it to be used statewide. The bill was amended to include three additional child welfare related measures.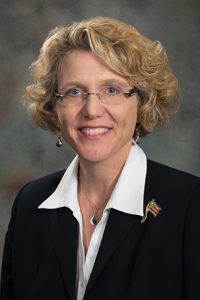 Bellevue Sen. Sue Crawford, sponsor of LB225, said alternative response allows the state Department of Health and Human Services (DHHS) to provide services to families that meet certain screening requirements and are the subject of a child abuse or neglect investigation where the risk to the child is considered minimal.
"The goal of the alternative response program is to provide early intervention and services to at-risk families in order to strengthen the family, protect the children from harm and prevent the child from being removed from the home if possible," Crawford said.
The department was granted a five-year waiver to implement an alternative response pilot project in 2013, she said, and lawmakers must reauthorize the program or risk losing federal child welfare funding.
LB225 would expand the pilot to a statewide program and extend the authorized use of alternative response until Dec. 31, 2020. The bill also would require that the mandatory evaluation of the program be presented to the Nebraska Children's Commission by Nov. 15, 2018.
DHHS would be required to provide regular updates to the commission on challenges, barriers and opportunities that may occur if alternative response were made a permanent program. The bill also adds child advocacy centers to the list of entities to which the department would provide a copy of all reports relative to a case of suspected child abuse or neglect.
A Health and Human Services Committee amendment, adopted 31-0, added provisions of three additional bills.
LB297, introduced by Omaha Sen. John McCollister, would create the Children and Juveniles Data Feasibility Study Advisory Group as a pilot project. The group would oversee a feasibility study to identify how existing state agency data systems that account for the use of all services, programs and facilities by children and juveniles could be used to establish an independent, external data warehouse.
The state Foster Care Review Office would provide administrative support for the feasibility study and the advisory group. A written report would be delivered to the Legislature in October of 2017 and 2018, and the pilot project would end Dec. 31, 2019.
LB298, introduced by Lincoln Sen. Roy Baker, would rename the Normalcy Task Force as the Nebraska Strengthening Families Act Committee under the Nebraska Children's Commission and add a juvenile facility representative to the committee.
The bill would apply provisions of the Nebraska Strengthening Families Act to children placed in juvenile facilities and require DHHS and the Office of Probation to develop a written normalcy plan and annual normalcy report.
DHHS and the Office of Probation Administration also would be required to establish a procedure for public dissemination of pictures and information about a child missing from a foster or out-of-home-placement, subject to state and federal confidentiality laws. The bill also would require DHHS to develop training for foster parents on how to recognize human trafficking.
LB336, introduced by Ralston Sen. Merv Riepe, would allow DHHS to charge a fee of at least $5, but not more than $10, to conduct a central registry check. Child-placing agencies would be exempt from the fee. The bill originally would have capped the fee at $3.
Omaha Sen. Sara Howard offered an amendment, adopted 32-1, to specify that any entity or individual that is required to request a check by state law or a department rule or contract also would be exempt from the fee.
Howard said required central registry checks for potential foster parents and employees of child-placing agencies that contract with the state should be exempt. The potential lost revenue would be made up by charging a slightly higher fee for other registry checks than the department originally requested, she said.
Crawford said the measures would represent a comprehensive update to public policy regarding the protection of Nebraska's children.
"Together these bills will work to strengthen our child welfare system and improve protections for our youth to keep them out of foster care and out-of-home care and provide protections if they do land in out-of-home care," she said.
The bill advanced to select file on a 33-0 vote.