Family leave plan proposed
Nebraska would create a program similar to the federal paid family leave program under a bill considered Feb. 6 by the Business and Labor Committee.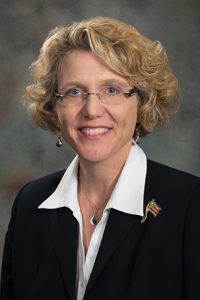 Bellevue Sen. Sue Crawford, sponsor of LB305, said she has heard "heart-wrenching" stories about the difficulty that Nebraskans face when attempting to balance work and family responsibilities.
"As Nebraskans we value hard work and we value our family responsibilities," she said. "We have one of the highest workforce participation rates in the country."
LB305 would create the Paid Family Medical Leave Insurance Act, under which a covered individual would be provided family medical leave for:
• care of a new child after birth, adoption or foster care placement;
• leave during a covered individual's serious illness or pregnancy;
• care of a family member with a serious health condition;
• care of a covered service member who is next of kin; and
• qualified exigency leave as defined in the bill.
A covered individual would be entitled to take leave under the bill beginning April 1, 2020. Available leave would vary between 6 and 12 weeks during any calendar year dependent on the qualified reason for the leave.
A covered individual could not receive family medical leave benefits and unemployment or workers' compensation benefits at the same time. Benefit amounts would be determined by a covered individual's yearly earnings as a percentage of Nebraska's average weekly wage.
The state Department of Labor would administer the program and the bill would transfer $4 million from the Health Care Cash Fund to a newly created Paid Family Medical Leave Insurance Fund to cover up-front administration costs. Those funds would be repaid in installments over a five-year period.
Ongoing benefits would be funded by contributions collected by covered employers as a payroll deduction from covered individuals. That amount could not exceed 0.5 percent of a covered individual's gross wages in any 12-month period.
The bill also would:
• require an employer to maintain health benefits for a covered employee during a leave period;
• require an employer to restore the individual to their position prior to leave or a position with equivalent pay and benefits; and
• prohibit retaliatory action by an employer against a covered individual who claims leave under the program.
Crawford said New Jersey, Rhode Island and California have passed similar laws. Nebraska could be a pioneer in paid family leave, she said, adding that the program could help solve the state's workforce shortage by offering a cutting-edge recruiting and retention tool.
"LB305 ensures that workers can put family first without sacrificing their jobs," she said.
Kaitlin Reece, policy coordinator for Voices for Children in Nebraska, testified in support of the bill. Providing paid family leave would demonstrate to Nebraska workers that the state values hard work and wants to help provide the best start in life for children, she said.
Reece noted that 77.9 percent of all available parents in Nebraska are in the workforce, but only half of working parents in the state are eligible for leave under the federal family leave program, which is unpaid.
"In an ideal world, employers would offer this on a volunteer basis," she said.
Clayton Freeman, director of programs and public policy for the Alzheimer's Association Nebraska Chapter, also supported in the bill. He said one of the greatest concerns among the 81,000 caregivers of individuals with Alzheimer's in Nebraska is the ability to take time from work to care for their loved ones while maintaining their financial well-being.
"This act would provide partial wage replacement to those workers who need to take time off for family and medical reasons," Freeman said.
Testifying in opposition to the bill on behalf of the Nebraska, Omaha and Lincoln chambers of commerce, Art Schorr said the bill would negatively impact small businesses in the state. He said there are good reasons that the federal act applies only to employers with 50 or more employees and to individuals who have worked for 12 consecutive months at the same job.
"LB305 does not address these issues in anywhere near the detail that the federal [law] does," he said, adding that the bill could "cripple" a small business that has only five or 10 employees.
John Albin, Nebraska commissioner of labor, also opposed the bill. The 0.5 percent contribution rate would not be sufficient to cover the estimated $300 million in annual benefits that would be paid out under the bill, he said. In addition, he said, the department would need to develop a new information technology system to collect the payroll tax and process claims.
"The department's primary concern is the fiscal sustainability of the program," Albin said.
The committee took no immediate action on LB305.