Voter ID bill clears second round after cloture vote
Senators advanced a bill from select file May 30 that would implement the provisions of an initiative petition approved by voters last year establishing a photo ID requirement to vote in Nebraska.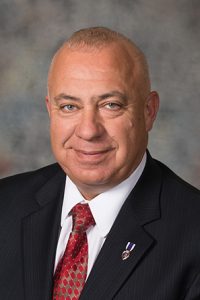 Among other provisions, LB514, introduced by Gordon Sen. Tom Brewer, would lay out the requirements for a valid form of photographic identification for voting in Nebraska. Those forms of ID would include a document issued by the state of Nebraska, an agency or a political subdivision of the state, the U.S. military, a Nebraska postsecondary educational institution or a recognized Native American tribe or band.
A hospital, assisted-living facility, nursing home or other skilled care facility record that includes a photo or digital image also would qualify.
Dunbar Sen. Julie Slama, who headed up the successful voter initiative effort and introduced her own bill outlining a voter ID framework, offered a series of amendments to extend debate on the proposal.
She said the bill contains numerous constitutional concerns, including what she referred to as "vague" language regarding what would qualify as a "reasonable impediment" to being able to present a valid photo ID.
Brewer said the bill represents "a lot of hard work" and contains provisions that could be implemented successfully by election commissioners and county clerks.
"We have a mandate from the people and this bill … does what they've asked," Brewer said. "It gives us the ability to have [voters] show their ID at the time they vote."
After four hours of discussion, Brewer filed a motion to invoke cloture, which ends debate and forces a vote on the bill and any pending amendments. The motion was adopted on a 42-3 vote.
Lawmakers then defeated a pending floor amendment from Slama on a 0-39 vote and advanced LB514 to final reading by voice vote.