Temporary teaching certificate for veterans considered
Qualifying veterans would receive a temporary certificate to teach full-time in Nebraska under a bill heard Jan. 23 by the Education Committee.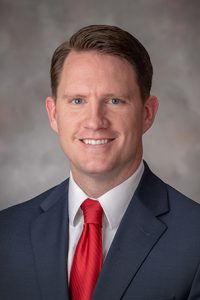 LB188, introduced by Sen. Ben Hansen of Blair, would require the commissioner of education to grant the temporary certificate to veterans who meet certain requirements.
Hansen said the proposal could help address the state's teacher shortage and provide job opportunities for veterans, many of whom have special training and experience that make them "highly qualified" to work in the classroom.
To qualify for the temporary certificate, an applicant would have to be a veteran with at least 48 months of military service, have a minimum of 60 college credits with a minimum cumulative GPA of 2.5 and pass a subject area examination as designated by the State Board of Education.
Temporary certificate holders would be assigned a "teacher mentor" for at least two school years. Mentors would be required to hold a valid Nebraska teaching certificate and have at least three years of teaching experience.
The temporary certificate would not be renewable and would be valid for no more than five years. The holder would have to obtain a regular teaching certificate during that time.
Kevin Naumann, a Catholic school principal in Lincoln and former Nebraska Air National Guard member, testified in support of the bill. He said the number of teaching candidates has "dwindled" in recent years and that the Legislature should consider any initiative that could increase the number of people entering the teaching profession.
"While LB188 does not require a principal like me to hire a veteran," Naumann said, "I am confident that the skills and experiences of these veterans will make them attractive candidates."
Testifying in opposition to the bill was Nicole Hochstein, a substitute teacher. Hochstein said she completed months of student teaching and training as part of her teacher education program but still felt "ill-prepared" when managing a classroom on her own for the first time.
Under Hansen's proposal, Hochstein said, veterans would be allowed to teach without first being trained to plan lessons, manage classroom behaviors and provide individual support and feedback to all students.
Isau Metes testified in opposition to LB188 on behalf of the Nebraska State Education Association. She said temporary teaching certificates generally are granted to those who have completed a teacher education program, have a bachelor's degree or hold a teaching certificate from another state.
LB188 would require none of those and does not specify that a veteran's college credits must be related to education, Metes said.
Under the bill's provisions, veterans who are discharged or released from service under conditions other than honorable would be eligible for the temporary certificate. Metes said such discharges are not the same as an honorable discharge and could be the result of misconduct that might violate Nebraska's teacher code of ethics.
The committee took no immediate action on the bill.