Behavioral health residency proposal advanced
Lawmakers gave first-round approval March 31 to a bill intended to boost behavioral health provider capacity in underserved areas of Nebraska after amending it to include a study requirement of the impacts of the AltEn ethanol plant in Mead.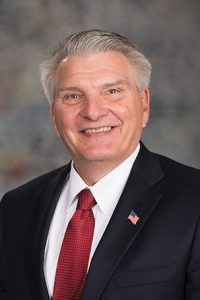 LB1068, sponsored by Gering Sen. John Stinner, would update a law passed by the Legislature in 2009 that funds efforts by the Behavioral Health Education Center of Nebraska to fill statewide behavioral health service needs, workforce education and professional training through established programs and practices.
BHECN is administered by the University of Nebraska Medical Center to provide residency training positions for physicians, physician assistants and psychiatric nurse practitioners. The intention of the bill is to increase the number of residencies from two to 10 and provide up to 12 one-year, doctoral-level psychology internships, an increase from the current five.
The bill also would provide funds for up to ten one-year mental health therapist internships or practicums in rural and underserved communities in Nebraska.
Stinner said the proposal would help ensure that Nebraskans are able to access behavioral health services in a timely way regardless of where in the state they live.
"With over 95 percent of Nebraska counties classified as behavioral health professional shortage areas … there are access issues everywhere in the state," Stinner said. "The COVID-19 pandemic only made matters worse."
He said he originally intended to provide $10 million in general funds to support the bill but after consultations with stakeholders, decided instead to increase BHECN's baseline state appropriation to $5 million annually. The bill would appropriate $2.6 million in general funds to the program in fiscal year 2022-23 and FY23-24.
Blair Sen. Ben Hansen supported the bill, saying many health care providers stay in Nebraska because of internships.
Sen. Carol Blood of Bellevue offered an amendment to add provisions of her LB1048, which would require the University of Nebraska to continue a study of the environmental and human health effects of the toxic chemicals contained in the dry residue — known as wet cake — and wastewater produced and stored at the AltEn plant in Mead.
The now-closed ethanol production plant used treated seed as raw material, leaving behind toxic byproducts that may have contaminated the water, soil and air surrounding the facility.
Blood said she originally hoped to use $10 million of the state's federal pandemic recovery funds for a long-term study but decided to pare down the request to $1 million to ensure that current research can continue when funding runs out in a few months.
"Moving forward for a year is better than not moving forward at all," Blood said. "It's imperative that the university's research continues."
Omaha Sen. John Cavanaugh supported the Blood amendment, saying researchers have an opportunity to track any negative health implications from the situation at the plant, including future potential cancer clusters.
"This is about looking at the long-term effects of this and making sure we have the researchers to actually do the studies and track the medical issues," Cavanaugh said.
Bayard Sen. Steve Erdman challenged the germaneness of the Blood amendment. According to legislative rules, only amendments found to be germane — related to the specific subject of the underlying bill — may be considered during debate.
Erdman said a bill to fund behavioral health provider training programs and an amendment to fund a university environmental study were not sufficiently similar.
"That's a real big stretch," he said. "I cannot connect those two."
The presiding officer ruled that Blood's amendment was not germane to LB1068.
Blood made a motion to challenge that ruling, saying the amendment and the bill both direct action by the University of Nebraska. The motion prevailed on a 24-19 vote. A vote of the majority of members present was needed.
Lawmakers then voted 31-6 to adopt the Blood amendment and advanced LB1068 to select file 34-4.