Budget package clears second round
Lawmakers gave second-round approval March 24 to three bills comprising the Appropriations Committee's mid-biennium budget adjustment package.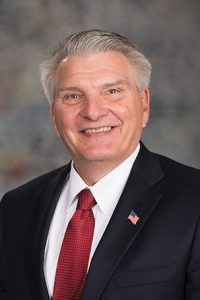 Several amendments were offered during debate on LB1012, which would authorize and provide for certain fund transfers, create funds and change and eliminate provisions regarding a fund.
Among those was an amendment offered by Henderson Sen. Curt Friesen to strike creation of the Military Base Development and Support Fund, which would be used to fund a series of projects at Offutt Air Force Base.
Friesen said it was a "step too far" to continue spending tax dollars on Offutt when the state has other priorities.
Several senators defended the funding, including Gordon Sen. Tom Brewer. He said U.S. Strategic Command, headquartered at Offutt, is a "prize" that other states envy and should not be sacrificed to "budget maneuvers."
"This is such a small piece of the budget that we're talking about here [and] the idea that that's the quick go-to place to steal money from the purse, I think is wrong-headed," Brewer said.
Friesen withdrew the amendment. He then offered another, which failed on a 6-13 vote, that would have taken a $14 million transfer from the Governor's Emergency Cash Fund to the Cash Reserve Fund and instead directed it to the Property Tax Credit Cash Fund.
Brainard Sen. Bruce Bostelman offered an amendment, adopted 42-0, that would ensure that a $955,000 transfer from the interest on the Nebraska Telecommunications Universal Service Fund to the 211 Cash Fund is a one-time transfer rather than an annual one.
He said the USF must be protected in the future for its intended purpose of making universal access to telecommunications services available to everyone in the state.
Omaha Sen. Mike McDonnell, whose LB911 initiated the transfer, supported the amendment. He said he would find a different source of funding going forward for the 211 Information and Referral Network, which is a free hotline that connects Nebraskans with non-emergency health and human services.
Stinner offered a cloture motion after four hours of debate, which was adopted 43-2, and lawmakers advanced LB1012 to final reading on a voice vote.
Omaha Sen. Steve Lathrop offered an amendment, adopted 42-0, to LB1011, the mainline budget bill. In addition to a series of technical changes, the amendment would correct the omission of a $5 million transfer to the Governor's Emergency Cash Fund.
A second technical amendment offered by Lathrop was adopted 39-2. Senators then adopted a cloture motion on a 42-1 vote and advanced LB1011 to final reading by voice vote.
Lawmakers also advanced LB1013, which would change provisions related to the Cash Reserve Fund, to final reading by voice vote following the 41-3 adoption of a cloture motion.