Pandemic funding bill amended, advanced
Lawmakers gave first-round approval March 23 to a bill that would appropriate the $1.04 billion allocated to Nebraska from federal pandemic relief funds after approving several amendments that altered individual allocations within the proposal.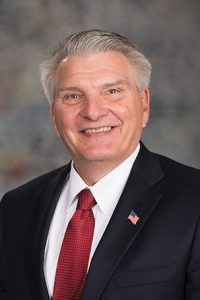 LB1014, introduced by Speaker Mike Hilgers of Lincoln at the request of Gov. Pete Ricketts, contains recommended appropriations for fiscal year 2021-22 and FY2022-23 for the American Rescue Plan Act funds that Nebraska has been allocated to mitigate the impact of the coronavirus pandemic.
The state has received $520 million and an additional $520 million is anticipated by May 2022. Federal law specifies that expenditures must either support COVID-19 mitigation efforts, respond to negative economic impacts, replace lost revenue, provide premium pay for essential workers or fund water, sewer and broadband infrastructure projects.
The federal funds must be allocated within three years and spent within five years.
Hilgers designated LB1014 a "speaker major proposal," which, under legislative rules, gives him the ability to determine the order in which amendments and other motions to the bill are considered.
Gering Sen. John Stinner, chairperson of the Appropriations Committee, said LB1014 contains important and time-sensitive spending measures to help the state recover from the coronavirus pandemic. The committee took care to make sure that included proposals follow ARPA guidelines regarding how the funds can be spent, he said, so that none of the money will be "clawed back" by the federal government.
The committee considered 130 separate issues and bills related to the use of the pandemic recovery funds, including 30 items in the governor's original proposal, 84 bills referenced to the Appropriations Committee and 16 bills referenced to other committees.
"Almost 80 percent of what the governor had requested and recommended is actually in this proposal," Stinner said.
Lincoln Sen. Anna Wishart supported the measure, noting that the committee heard over $4 billion worth of requests for the $1.04 billion of funds available. She said those requests helped the committee focus their efforts by identifying statewide needs in areas hard hit by the pandemic.
The Appropriations Committee amendment, adopted 44-1, replaced the bill. The amendment contains provisions of twenty additional bills introduced this session, including:
• LB1025, sponsored by Omaha Sen. Justin Wayne, which would appropriate $150 million to the state Department of Economic Development for the North Omaha Recovery Grant Program;
• LB1089, sponsored by Stinner, which would appropriate $55 million to the state Department of Health and Human Services for licensed and Medicaid-certified nursing facilities;
• LB1066, sponsored by Stinner, which would appropriate $28 million to DHHS and the University of Nebraska for behavioral health care services;
• LB1172, sponsored by Omaha Sen. Robert Hilkemann, which would appropriate $55 million for rate increases for certain providers of developmental disabilities services; and
• LB1201, sponsored by Bennington Sen. Wendy DeBoer, which would appropriate $20 million to DHHS for grants to nonprofit organizations providing food assistance.
Henderson Sen. Curt Friesen suggested that lawmakers consider appropriating only the ARPA funds that already have been received and leave the second half for future senators to allocate. The state's fiscal outlook could be far different in a year, he said, suggesting that the current process was encouraging senators to make hasty decisions in fear of missing out.
"I am reluctant to vote for any of this," Friesen said. "I am saying that I think we need to hold up, slow down [and] let's pick the best of the best projects that actually do something in the state to make this a better place."
Included in the committee amendment was a provision that grew out of Wayne's LB1025. As introduced, the bill would have appropriated $450 million in ARPA funds to DED to provide grants to public and private entities within low-income census tracts in a city of the metropolitan class. Omaha is the state's only metropolitan class city.
Funds could be used for entrepreneurship, housing, employment, job creation and small business assistance.
As included in the Appropriations Committee amendment, the proposal instead would allocate a total of $150 million, with $50 million to qualified census tracts located north of Dodge St. and east of 72nd St. in Omaha, $50 million for such tracts located south of Dodge St. and east of 72nd St. and $50 million for tracts outside of Omaha.
Wayne said 80 percent of the state's qualified census tracts are in North and South Omaha and dviding funding equally between those areas and the rest of the state would not be equitable. Detailed projects are ready to go, he said, and no senator from outside Omaha brought a bill to use funds for qualified census tracts in other parts of the state.
"We came with a plan," Wayne said. "Nobody else who has a qualified census tract came with a plan."
He brought an amendment, adopted 29-1, that removed census tracts outside of Omaha from grant eligibility under LB1014.
Additional changes
Over the course of eight hours of debate, lawmakers considered several proposals to alter other provisions in the bill. In scheduling consideration of amendments from individual senators, Hilgers indicated that any proposal for new funding must specify what would be removed from the committee proposal to offset it.
Sen. John Arch of La Vista offered an amendment, adopted 39-0, that would adjust a variety of allocations to add $20 million over the next two fiscal years to increase mental health care capacity and education through capital construction project grants administered by DED. He said the change would restore full funding to the projects as outlined in the governor's proposal.
"All session we've been talking about the mental health needs of Nebraskans — how addressing critical behavioral health services early can keep Nebraskans healthy, employed and out of the corrections system," Arch said.
ARPA funds would be coupled with private dollars and go toward pediatric mental health urgent care centers in Omaha and Kearney to serve youth experiencing mental health crises, which he said have been exacerbated by the pandemic, and other projects directed at behavioral health infrastructure across the state.
Stinner supported the amendment, saying the projects are important in order to create mental health care capacity and that the corresponding reductions to premium-pay and other programs in the committee proposal would not harm the overall goal of helping the state's health care system rebound from the pandemic.
Also approved, on a 33-0 vote, was an amendment offered by Creighton Sen. Tim Gragert. The adjustment would appropriate $7 million in ARPA funds to the Drinking Water Facilities Loan Fund under the state Department of Environment and Energy to provide grant assistance to the Cedar Knox Rural Water Project.
The appropriation would be offset by taking $6 million from the Rural Workforce Housing Investment Act and $1 million from job training and placement grants to nonprofit organizations for employment and employability services for refugees.
Gragert said the grants would fund a portion of a $36 million project to address drinking water and infrastructure needs for approximately 7,000 people in northern Cedar and Knox counties.
Glenvil Sen. Dave Murman offered an amendment, adopted 37-1, that would remove $10 million of the $25 million allocated to state agencies to administer the funds appropriated in LB1014. The amendment instead would allocate $5 million to nursing scholarships to Nebraska residents who agree to practice in the state for two years after completing their program and $5 million to an existing student loan repayment program for rural health professionals.
Murman said Nebraska faces a health care provider shortage, with more than 7,000 open nursing positions in the state currently. Nine of Nebraska's 93 counties have no registered nurses, he said, and the amendment would bring funding for the two programs back up to the level recommended by the governor in his original proposal.
"The COVID-19 pandemic has taken a heavy toll on health care providers who have been on the front line of the pandemic," Murman said. "We as a state need to invest in initiatives that would immediately strengthen Nebraska's health care workforce."
Two technical amendments also were adopted that would not change dollar amounts appropriated within LB1014.
Other proposals
Lawmakers also considered several additional changes, including an amendment from Bellevue Sen. Carol Blood that would have added provisions of her LB696 to provide $20 million to the state Department of Education for grants to all public school districts for employee retention.
Blood said school employees have been on the front line during the pandemic and that teachers are "stressed, exhausted, exasperated … underappreciated and underpaid." The amendment would have removed all $20 million allocated in LB1014 for wastewater and drainage system updates at the state fairgrounds in Grand Island to offset the funding.
Bayard Sen. Steve Erdman opposed the Blood amendment, saying the Appropriations Committee already trimmed the $25 million request for the fairground updates down to $20 million. In addition, he said, the state Department of Education received significant pandemic relief funds outside of state ARPA funding and could afford to give teachers bonuses out of that money.
"If the department really cared about their employees, they would take care of them without our help," Erdman said. "They have the wherewithal to do that … they have plenty of money, more than they need."
The amendment failed on a vote of 11-18.
Also rejected was a proposal from Wayne that would have, among other provisions, allocated $6 million to the Lancaster County Event Center for "critical upgrades."
The amendment also would have incorporated two bills originally introduced by Lincoln Sen. Adam Morfeld. Portions of his LB867 would provide $500,000 for the HIV Surveillance and Prevention Programs, and provisions of LB991 would provide $300,000 to the state Department of Transportation to conduct a feasibility study for a high-speed commuter rail service between Omaha and Lincoln.
The amendment failed on a 12-14 vote.
After eight hours of debate, Stinner offered a motion to invoke cloture, which ceases debate and forces a vote on the bill and any pending amendments. The motion was adopted 46-1 and senators voted 41-1 to advance LB1014 to select file.