Increased compensation for first responders' families advanced
A proposal to increase a one-time death benefit available to families of public safety officers killed in the line of duty was advanced from general file Feb. 25.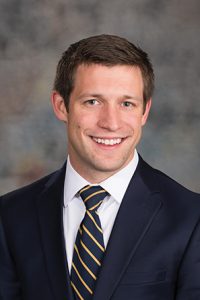 During the 2021 legislative session, senators passed a bill that provides a one-time death benefit of $50,000 to the family of a paid or volunteer law enforcement officer, firefighter, correctional officer or government or nonprofit EMS ambulance squad member. The compensation increases each year to an amount equal to the previous year's compensation increased by the percentage of the consumer price index.
LB717, introduced by Lincoln Sen. Adam Morfeld, would increase the monetary compensation to $250,000 for deaths occurring in 2022. The benefit would increase in future years in the same manner as the previous legislation.
"I truly believe while $50,000 is laudable, it isn't nearly enough for the death of a public safety officer whose duty it is to protect all of us," Morfeld said. "In many cases, this does not come even close to covering the medical bills and funeral costs, let alone ensuring the surviving family and spouses are compensated for the loss of income and their pain and suffering."
Lincoln Sen. Patty Pansing Brooks spoke in support of the bill, saying it would help families in a time of "devastating tragedy."
"It is the least we can do as a state to honor those who are killed in the line of service [while] keeping our Nebraska citizens safe and well," Pansing Brooks said.
Also in support of the proposal was Omaha Sen. Mike McDonnell, who said increasing the death benefit for people who take an oath and lay down their lives should matter more than dollars.
In opposition to the bill was Thurston Sen. Joni Albrecht. She said many agencies offer life insurance policies and communities can offer support to families when a person dies in the line of duty.
"I don't believe it's being fiscally responsible with the tax dollars that we have," Albrecht said. "In my community, if we have someone that has fallen, our communities come together and raise money for those families like no other."
Henderson Sen. Curt Friesen also spoke in opposition. He questioned increasing the death benefit when some departments, counties and cities already provide some level of compensation. If counties want to provide greater benefits, they can budget for it and do so, he said.
"I just think that when the state starts getting involved in some of these things, some of it gets to be excessive and it doesn't take into account some of the other benefit packages that are out there," Friesen said.
Lawmakers gave the bill first-round approval on a 32-6 vote.