Pandemic funds sought for health center capital projects
Nebraska would use $20 million in federal pandemic relief funds for capital construction grants to the state's federally qualified health centers under a bill considered Feb. 22 by the Appropriations Committee.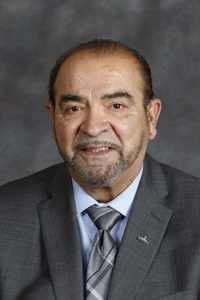 LB1183, sponsored by Grand Island Sen. Raymond Aguilar, states legislative intent to appropriate $20 million in federal American Rescue Plan Act funds to the state Department of Health and Human Services for the grant program.
Funds would be available to the state's seven federally qualified health centers for costs associated with capital projects that would expand health care access to Nebraskans most impacted by the COVID-19 public health emergency.
Aguilar said the grants would allow the health centers, which serve the state's most vulnerable populations, to expand their services through shovel-ready construction projects. Nebraskans have sought health care at the centers during the pandemic in high numbers, he said.
"[They] have been the safety net on the front lines of this crisis," Aguilar said. "I can't think of any other proposal that [would serve] more of our citizens that have felt the most negative economic impact of this pandemic."
Kenny McMorris, CEO of Charles Drew Health Center in North Omaha, spoke in favor of the bill. Representing the Health Center Association of Nebraska, which encompasses all seven federally qualified health centers, he said the grant funds outlined in LB1183 would allow the centers to expand current sites and build new locations to reach more of the state's medically underserved population.
The state's federally qualified health centers provided over 64,000 COVID-19 tests and vaccinated more than 42,000 people during the pandemic, he said.
"We know that the work that we do every day is transformational," McMorris said.
Tami Smith, CEO of Heartland Health Center in Grand Island, also testified in support. She said the federally qualified health center, which served 841 patients when it opened in 2104, served nearly 6,700 patients last year.
Heartland Health Center recently opened a satellite clinic in Ravenna after that community's local clinic closed, she said. The center would like to expand further but does not have the space to bring on new providers or patients, she said, noting that limited access leads to worse health indicators and a higher likelihood that people will forego health care altogether.
"People come to Heartland all the way from North Platte to receive health care at the clinic," Smith said. "Can you imagine how difficult it is for a patient to keep their diabetes under control when they have to make a four-hour trip just to attend a medical appointment?"
Representing the ACLU of Nebraska, Karsen Sims spoke in favor of LB1183. The state's federally qualified health centers have served the essential workers who grow Nebraska's food, stock supermarket shelves and staff meat processing plants, she said, all of whom have been among the individuals hardest hit by the pandemic.
"These health centers have always been integral parts of the communities they serve [but] they are more important now than ever," Sims said.
No one testified in opposition and the committee took no immediate action on the bill.