Bill would update school parental involvement policies
The commissioner of education would withhold state aid from school districts that fail to make learning materials available to the public under a bill heard Feb. 15 by the Education Committee.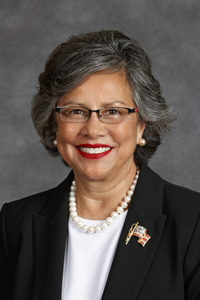 Bellevue Sen. Rita Sanders, sponsor of LB1158, said the bill is a needed update to a nearly 30-year-old state law requiring public schools to develop and adopt policies on parental involvement.
"I hope that this will foster a stronger relationship with the school and the parents," she said. "Our world has changed, and our transparency laws should change."
Under LB1158, a policy would include how the district will provide parents and guardians access to digital and learning materials and training materials for teachers, administrators and staff as well as procedures for the review and approval of such materials and activities, among other information.
A policy would have to describe under what circumstances a parent or guardian could ask that their child be excused from learning materials, activities and guest speakers that the parent finds objectionable. Parents already may request that their children be excused from testing, classroom instruction and other school experiences.
LB1158 would require a "reasonable opportunity for public comments" at a required public hearing on the policy.
The bill also would require each school district to make all district and school policies accessible by a prominent link on the school's website and make a reasonable effort to make any learning materials available for public inspection upon request.
If the commissioner of education determines that a school district has failed to comply with the bill's requirements, the commissioner would be required to direct that the district's state aid be withheld and that any county with territory in the district withhold all money belonging to the district.
Doug Kagan of Omaha testified in support of LB1158 on behalf of Nebraska Taxpayers for Freedom. He said some Nebraska school districts do not publicize the process by which they select and order staff training and learning materials or make such materials easily available for public inspection and comment before they are purchased.
"We view LB1158 as a solution by requiring every school district to uphold the same standards for public examination of policy and material comment," Kagan said. "We believe it would cultivate a solid working relationship between parents, taxpayers and public school districts."
Janet Johnson, a Sarpy County resident, also testified in support, saying she wants transparency in school district policies and curricula.
"As a parent and a grandparent, that is of the utmost importance to me — that we would be able to access what materials are being taught in the schools that our children and grandchildren and neighbors and friends go to," Johnson said.
Anne Hunter-Pirtle testified in opposition LB1158 on behalf of Stand for Schools. She said parents, guardians and the public already have access to much of the material that LB1158 seeks to make available and that the bill would discourage teaching about "challenging but essential topics."
"In our view, this bill assumes an adversarial relationship between parents and teachers as well as between parents and schools, which is not consistent with the reality that we see and hear about from the vast majority of parents in Nebraska," Hunter-Pirtle said.
The bill also would impose "punitive" clawback measures on school districts that do not comply with its overly broad requirements, she said.
Kyle McGowan gave neutral testimony on behalf of the Nebraska Council of School Administrators, Nebraska Rural Community Schools Association and an organization that represents several midsized school districts. LB1158 would make it easier for parents to get information on a school's curriculum, he said, but the organizations he represents cannot support the bill because of its "excessive penalty."
At a time when every subject seems to be getting more controversial, McGowan said, the proposal also could encourage more parents to ask schools to excuse their children from learning activities.
Sarah Centineo also gave neutral testimony on behalf of the Nebraska Association of School Boards. She said the association has never received a complaint from a parent who was unable to access requested curriculum materials.
Centineo asked the committee to remove or modify the provision that would require the commissioner of education to withhold funds from schools that fail to comply with the bill's requirements. It is unclear whether schools could appeal the commissioner's decision, she said, and the requirement would be difficult for county treasurers to implement because some school districts have territory in multiple counties.
The committee took no immediate action on the bill.