County minimum wage proposed
A bill that would allow a county to raise its minimum wage above the state level was heard by the Business and Labor Committee Feb. 14.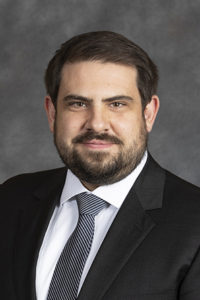 Nebraska's minimum wage currently is set at $9 per hour. Under LB935, introduced by Lincoln Sen. Eliot Bostar, a county board would have the option to enact a higher minimum wage for individuals working within its physical boundaries. The minimum wage would apply to all municipalities within the county, but an ordinance could set a different minimum wage for student-learner employees, training wages and those compensated by means of gratuity. 
An employer could apply for an exemption by demonstrating that an increased wage would be unduly burdensome because they employ individuals who work in multiple counties.
Under the bill, an employer who fails to pay the county minimum wage could be subject to a Class IV misdemeanor and be liable to the employee for unpaid wages. 
Bostar said LB935 would equip county leaders with the necessary flexibility to set a minimum wage that makes sense for the economic characteristics of their county without unduly impacting neighboring counties.
"LB935 acknowledges that economics and the cost of living are regional and what may be appropriate in one area may be a poor fit in a different part of the state," Bostar said. "The cost of housing, dining out [and] groceries are fundamentally inconsistent from one county to another." 
In support of the bill was Ken Smith of Nebraska Appleseed. Counties would have good reason to set their own minimum wage if they find that the state's rate is not meeting their residents' needs, he said. 
"Increasing wages has widespread positive economic impact — from increasing consumer spending, boosting worker productivity, reducing turnover and helping efforts to recruit and retain a talented workforce — to name a few," Smith said. "Raising the minimum wage also addresses well-established racial and gender pay disparities."
Also in support was Tim Mussack, who spoke on behalf of the Center for Rural Affairs. He said granting local control could help alleviate the complex and often divisive challenges involved in minimum wage decisions.
"County leaders are in a position to best understand economic and wage issues facing businesses and residents in their county," Mussack said. "They're members of the communities they serve — they are accessible to and held accountable by their friends, family and neighbors. These leaders are regularly trusted to make hard decisions and we believe are most capable of deciding on an appropriate minimum wage for their county."
Representing the Nebraska Association of County Officials, Jon Cannon opposed the bill. Cannon expressed concern over the unknown effects of increased competition among counties and on interstate commerce for counties near state borders under the bill. 
"These are all things that we think need to be studied in order to have a fuller view of what the County Minimum Wage Option Act would look like," he said.
Also in opposition was Robert Hallstrom, who spoke on behalf of the National Federation of Independent Business, Nebraska Chamber of Commerce and Industry and an array of other associations. He said the bill would be a "nightmare" for small businesses that operate in multiple counties and their payroll systems.
Bud Synhorst of the Lincoln Independent Business Association also testified against the bill. Synhorst said LB935 would cause confusion for business owners. 
"After two years of restrictions, closures and revenue uncertainty due to COVID-19, the last thing our local business owners need is the potential for 93 different minimum wage laws," he said. "Allowing county boards to increase their minimum wage will open doors for [excessive] government involvement in our local economies."
The committee took no immediate action on LB935.