Lake, water recreation projects proposed
Nebraska would build a lake between Omaha and Lincoln to boost recreational opportunities and economic development under a proposal heard Feb. 10 by the Natural Resources Committee.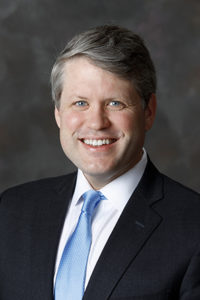 LB1023, introduced by Speaker Mike Hilgers of Lincoln, would authorize two state agencies to carry out projects recommended by the Statewide Tourism and Recreational Water Access and Resource Sustainability special committee, created by the Legislature last year in LB406.
The first, which would be built and managed by the state Department of Natural Resources, is a proposed lake of at least 3,600 surface acres in or near Sarpy County and within the Platte River's floodplain.
The state Game and Parks Commission would carry out the other recommended projects: new and expanded marinas at Lake McConaughy and Lewis and Clark Lake and an event center and lodge at Niobrara State Park.
Hilgers, the special committee's chairperson, said the governor's budget request includes $200 million for the marinas, lodge and other smaller projects as well as hydrological and environmental studies related to lake construction.
The lake's final location has not been set, Hilgers said, but it would create at least a $5 billion economic impact during construction and a nine-figure annual economic impact.
He said LB1023 would allow for a public-private partnership to attract the private investment necessary to build the lake and develop the area around it. A "significant portion" of the lake's perimeter would be preserved for public use, Hilgers said, but at least some of it would be privately developed.
"This is an opportunity to do a big swing for the state of Nebraska that will have a material, transformative impact both economically and for countless Nebraskans across the state," he said.
Ken Schilz testified in support of the bill on behalf of Keith County Area Development. He said the proposed marina at Lake McConaughy would be an "anchor point" for development around the lake.
Eunice Palu testified in support of LB1023 on behalf of the Friends of Knox County. She said the proposed Knox County projects would increase the number of visitors who hunt, fish and boat in northeastern Nebraska and also encourage young people to live there.
Al Davis testified in opposition to the proposal on behalf of the Nebraska Chapter of the Sierra Club. He said the proposed lake could be infiltrated by silt and invasive fish species unless levees are built around it to keep out floodwater. It also would alter the local groundwater table, Davis said, possibly reducing flows in the Platte River and threatening downstream wildlife.
He said the lake would be a "playground for wealthy Nebraskans" and that investments in the state's trail system and existing lakes and recreational areas would benefit a greater number of residents.
Philip Young gave neutral testimony on LB1023 on behalf of Beacon View Inc., a 100-acre area along the Platte River in Sarpy County.
In proposals he has seen, Young said, Beacon View's 29 homes and cabins would be located between the Platte River and the new lake. He questioned how the project would affect residents' safety during floods and their access to Interstate 80, Gretna and Omaha.
Dan Bundy, a Sarpy County resident who owns land near Beacon View, also gave neutral testimony. He said "conceptual renderings" show the proposed lake covering much of his land.
Bundy questioned when and under what circumstances the state would acquire land to build the lake and how that land would be valued.
"There is little doubt that there could be a huge windfall for the state of Nebraska and property owners who have land development around the lake," he said, "but what about those of us like myself and my family who would be under the lake?"
Lincoln and Omaha utilities representatives also gave neutral testimony, saying a thorough, independent study of the proposed lake's effects on those cities' water supplies is needed before the state moves forward.
Rick Kubat, testifying on behalf of Omaha's Metropolitan Utilities District, said the Platte River provides half of Omaha's water capacity and all of Lincoln's.
"We want to look closely, just to make sure that we're able to tell our growing communities on the eastern side of the state that we're going to be able to serve your businesses and that we're going to be able to continue to serve the public with their water," he said.
Elizabeth Elliott, director of Lincoln Transportation and Utilities, said additional studies are required to analyze the lake project's impact on Lincoln's present and future wells and to ensure that it does not compromise the city's water quality.
Although the lake would provide tourism and economic development opportunities to Lincoln and other communities, she said, it would give the city no additional water capacity.
The committee took no immediate action on LB1023.