Classroom air filter study clears first round
The state would install high-quality air filters in 150 classrooms to study their effect on student test scores and behavior under a bill advanced from general file April 27.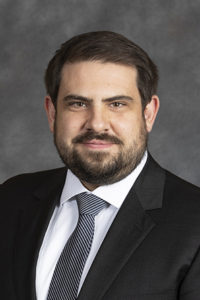 LB630, introduced by Lincoln Sen. Eliot Bostar, would require the state Department of Education to develop and implement a pilot program to study the efficacy of commercial air filters to remove air pollution from classrooms and their impact on academic performance and behavior.
The pilot program would include 50 schools, with six participating classrooms in each school. Half of the classrooms would be assigned to the control group.
At the end of the study, the department would submit the results to the Legislature.
Bostar said a recent study measured the effect of air quality on academic performance in several California schools that installed high-quality commercial air filters in response to a leak at a nearby natural gas storage facility in 2015.
Compared to schools outside the affected area, he said, schools that installed air filters saw a significant increase in students' math and English test scores.
Given those results and the growing body of research demonstrating air pollution's negative effects on children's health and development, Bostar said, Nebraska should further investigate classroom air filters.
"It would be a missed opportunity not to ask our education system to investigate this matter fully," he said.
An Education Committee amendment, adopted 44-0, would require the department to work in conjunction with researchers at the University of Nebraska-Lincoln.
Lincoln Sen. Mike Hilgers supported the bill, which he described as a new approach to addressing the problem of student performance.
"LB630 is a small investment to try to see whether this data that we're seeing in other places will lead to a [similar] result," Hilgers said. "If it does, I think it's a no-brainer for us to look at [doing] this in the school systems across our state, given the value and the potential benefits."
Omaha Sen. Megan Hunt said she would support the bill on general file but expressed concerns about the amendment. She said she was skeptical of putting inflexible research requirements into state law that may not reflect best practices.
"Basically, the parameters of a randomized control study are being legislated in the language of this bill," Hunt said. "My question is what if researchers find out that it would be better to execute this study in a [different] way?"
Senators voted 41-2 to advanced LB630 to select file.