Convention of the states proposal remains stalled
Senators narrowly rejected a procedural attempt April 23 to pull a measure from committee that would authorize Nebraska's participation in a convention of the states.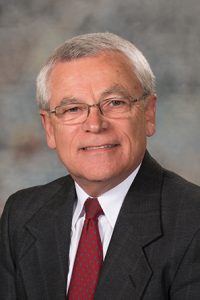 Sen. Steve Halloran of Hastings offered a motion to advance his LR14 from the Government, Military and Veterans Affairs Committee to the floor for general file debate. The committee is deadlocked, Halloran said, with insufficient votes to either advance or indefinitely postpone the resolution.
LR14 would be Nebraska's application for a convention of the states authorized under the U.S. Constitution. If 34 states commit to a convention, states could propose amendments to the U.S. Constitution that would limit the size and authority of the federal government, consider fiscal restraints and consider term limits for members of Congress.
Halloran said 15 states have passed similar resolutions.
"I am not putting process aside. I am following the rules as prescribed," Halloran said. "Some object to pull motions because it usurps the committee process. I am a committee chair myself, and the chair of the Government, Military and Veterans Affairs Committee, he himself supports this pull motion."
Sen. Tom Brewer of Gordon, chairperson of the committee, spoke in favor of the motion. He said he respects the committee process but it sometimes is necessary to advance a deadlocked bill or resolution. LR14 is an example, he said, because the current level of federal spending has the country in a "death spiral."
"We will spend until the system collapses," Brewer said.
Sen. Steve Erdman of Bayard also supported the motion and the resolution. The federal government needs to be reined in, he said, to prevent continued growth of the federal debt.
"Not only will my grandkids pay off this national debt, their grandkids may as well," Erdman said.
Lincoln Sen. Adam Morfeld opposed the motion and called LR14 "dangerous."
"The only precedent we have for a constitutional convention is one that completely dismantled the current constitution at the time — the Articles of Confederation." he said. "Does anybody honestly think that there's not a danger that they could amend other constitutional amendments that we all hold dear?"
Sen. Patty Pansing Brooks of Lincoln also opposed the motion. She said a convention of the states would lead to "tyranny and chaos."
"The convention gets to write its own rules," Pansing Brooks said. "They get to set their own agenda, influenced by powerful interest groups. They could choose a new ratification process for any kind of amendment to the Constitution."
The motion, which required 25 votes for adoption, failed on a 23-14 vote.