Cap on property tax request increases stalls
A proposal to limit increases in property taxes collected by local governments stalled on general file April 22 after a failed cloture motion.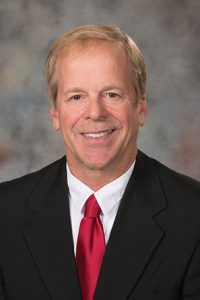 Under LB408, as introduced by Sen. Tom Briese of Albion, a political subdivision's property tax request — the amount of property taxes requested to be raised through its levy — could not exceed the prior year's request by more than 3 percent.
A political subdivision could exceed the limit by an amount approved by a majority of registered voters in a primary, general or special election.
Briese said property tax requests have increased roughly 4.5 percent in the last 10 years, or about two to three times faster than inflation and wage growth. He said his proposal is intended to put a "very reasonable restriction" on that growth.
Under a pending Revenue Committee amendment, a political subdivison's property tax request for any year could not exceed the previous year's request multiplied by 103 percent. The limit would apply to property tax requests set in 2022 through 2027.
The amendment would give political subdivisions a second mechanism by which they could exceed the 3 percent limit.
With a majority vote of its governing body, a political subdivision could exceed the limit for no more than two consecutive years. In that case, the political subdivision's property tax request would be reduced in subsequent years so that the increase would not exceed 9 percent over a three-year period.
The amendment also would allow a political subdivision to carry forward half of its unused request authority to future years if it chooses not to increase its property tax request by the full amount allowed. The political subdivision could use that carryover authority in future years to increase its property tax request above the 3 percent limit.
As in the original bill, the limit would not apply to the portion of a political subdivision's property tax request that is needed to pay the principal and interest on approved bonds.
It also would not apply to the portion of a political subdivision's property tax request that will be derived from its real growth value, or the increase in real property valuation due to improvements — such as new construction and additions to existing buildings — and the annexation of property.
Briese said that, when allowing for valuation growth of approximately 1 percent per year, the cap would be closer to 4 percent in practice, something most political subdivisions could accommodate.
Briese introduced an amendment to the committee amendment that he said includes several provisions and exceptions meant to ensure local boards still could deal with sharp spending increases related to growth, health and safety hazards and other factors. He said he would work to further amend LB408 on select file to exclude certain political subdivisions from the bill's requirements.
Sen. Suzanne Geist of Lincoln supported the proposal. She said high residential property taxes make home ownership unaffordable for young people and those living on fixed incomes.
"We need to listen to our constituents about what they want from their government," she said, "and this is what they want."
Elkhorn Sen. Lou Ann Linehan also supported LB408, saying Nebraska has the sixth highest tax rates in the country.
"That's not helpful if we're going to recruit anybody, let alone keep people here," she said.
The state will spend more than $700 million over the next two years in an effort to address high property taxes, Linehan said, but that amount will continue to grow unsustainably if lawmakers do not impose additional constraints on local spending.
"We can't just look at one side of the equation," she said. "We have to have some partners here."
Sen. Michael Flood of Norfolk also supported the bill, saying the Legislature has imposed taxing limits on political subdivisions in the past without dire effects. He said LB408 is justified in light of large increases in the amount of property taxes collected by some political subdivisions over the past several years, especially certain community colleges.
The temporary limit would force those entities to work with lawmakers on major tax reform, Flood said, something they so far have opposed.
"We don't want to punish these political subdivisions — we want them to get in the boat with us and feel it," he said. "We want them to sit there and find solutions instead of playing defense."
Lincoln Sen. Adam Morfeld opposed the bill. He said political subdivisions already are subject to certain taxing and spending limits and that LB408 would constrain local governments' ability to address their citizens' needs.
If Nebraskans are angry about high property taxes, he said, they can hold their local officials accountable by voting them out of office.
Sen. Carol Blood of Bellevue also opposed LB408, saying it would not address the underlying problems that lead to high property taxes, including unfunded and underfunded mandates the Legislature has imposed on counties. She said lawmakers have not acted on a 2014 interim study report that identified more than a dozen of those mandates.
"It is so easy for us to point fingers at the local level and say we know better," Blood said. "We had solutions that we ignored."
Also in opposition was Omaha Sen. John Cavanaugh. If the Legislature wants to encourage young families to live in Nebraska, he said, it should focus on making higher education and child care more affordable. For many young people, he said, those two factors determine whether they can afford to buy a house, not property taxes.
"My monthly student loan bill is three times my monthly property tax bill," Cavanaugh said. "My monthly child care bill is 10 times my monthly property tax bill."
After eight hours of debate on general file, Briese filed a motion to invoke cloture, which would end debate and force a vote on the bill and any pending amendments.
The motion failed on a vote of 29-8. Thirty-three votes were needed. A failed cloture motion results in debate on a proposal ceasing for the day. LB408 is unlikely to be placed on the agenda again this session.