Sales tax turnback for sports complexes advanced
Lawmakers gave first-round approval April 21 to a bill that would provide state support for cities to build sports complexes.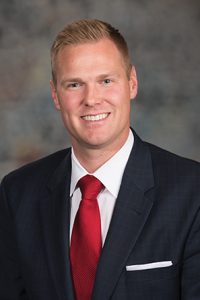 Currently, the Sports Arena Facility Financing Assistance Act allows political subdivisions to apply for state assistance to build eligible sports arena facilities.
Under LB39, sponsored by Omaha Sen. Brett Lindstrom, a political subdivision alone or working with a nonprofit organization could use that assistance to build sports complexes — facilities that are used primarily for competitive sports and contain a certain number of sports venues such as outdoor arenas or baseball, softball or multipurpose fields.
Lindstrom said the sports tourism industry generates approximately $15 billion in economic activity each year, but Nebraska communities lose out to other cities in the region when it comes to hosting tournaments and regular season games.
"We have the potential to capitalize on this industry and keep our tax dollars here in the state," he said. "If we invest in these projects, we have the opportunity to host events right here at home instead of sending our dollars across the river or over our borders."
The bill would direct 100 percent of state sales tax revenue generated by certain retailers near a sports complex back to the political subdivision.
Lindstrom said the turnback would apply to state sales tax collected by new businesses within 600 yards of the exterior boundary of a sports complex for the period of time beginning on the date the project commenced and ending four years after its completion date.
Current law directs 30 percent of sports arena turnback revenue to the Civic and Community Center Financing Fund. A Revenue Committee amendment, adopted 43-0, would direct 30 percent of the revenue generated by sports complexes to the Support the Arts Cash Fund.
The Nebraska Arts Council uses the fund to aid cities that designate an area of the community for arts and cultural development and to provide grants to creative districts.
Under the amendment, the council would use the turnback revenue to fund a competitive grant program for first class cities — those with a population of 5,001 to 100,000.
A city would be eligible for a grant if it is not receiving state assistance under the Sports Arena Facility Financing Assistance Act and has a creative district within its boundaries with a 10-year plan to bring about economic and workforce development initiatives.
Grants would be at least $1.5 million and could be used to fund capital assets, video projection mapping and certain video or audio presentations.
Sen. Rich Pahls of Omaha supported the committee amendment and LB39.
"It's nice to see us expanding beyond the concept of sports," he said. "Getting the arts involved, to me, is very, very positive."
Senators voted 40-0 to advance LB39 to select file.