Teaching certification reciprocity for military spouses advanced
Lawmakers gave first-round approval March 9 to a bill intended to speed the issuance of teaching certificates to military spouses.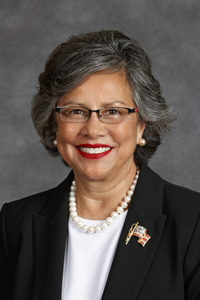 LB389, introduced by Bellevue Sen. Rita Sanders at the request of Gov. Pete Ricketts, would require the State Board of Education to issue a certificate or permit to a military spouse who, among other requirements, holds a valid certificate or permit currently in force in another state to teach, administer or provide special services.
An applicant also must have held the certificate or permit for at least one year, be in good standing in all states where the certificate or permit is held, have no pending investigations or complaints, meet all residency and background check requirements and pay applicable fees.
Sanders said the bill would help military spouses who are teachers receive their Nebraska certification quickly and with minimal burden. The changes would meet U.S. Department of Defense policy goals meant to make Nebraska more friendly to military spouses and help schools by increasing the number of qualified teaching candidates, she said.
Under LB389, the certificate or permit for a military spouse would be valid for at least three years and include the same or similar endorsements to teach in all subject areas for which the applicant had been certified in the other state if Nebraska offers a similar endorsement.
The board would issue a preliminary permit after submission of an application, payment of any fees and completion of a criminal history record check. It would remain in force until the state commissioner of education finishes reviewing the other requirements and either issues a certificate or permit or notifies the applicant of why it cannot be issued.
The bill also would require the board to regulate and expedite the processing of applications submitted by an individual whose spouse is serving on active duty.
Sen. Lynne Walz of Fremont supported LB389. She said it would help address Nebraska's teacher shortage, which the pandemic has worsened over the past year.
"Reciprocity will help us fill the needs of teachers for our schools and help us continue to provide the high quality of education that Nebraska enjoys and appreciates," Walz said.
Senators voted 46-0 to advance the bill to select file.