Step therapy exception bill clears first round
Health care providers would have greater ability to prescribe treatments not covered by health insurance under a bill advanced from general file March 2.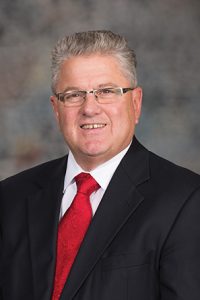 Step therapy is an insurance company practice in which a patient must fail a treatment, usually lower cost or generic, selected by an insurance company before the company will cover the treatment originally prescribed by a patient's health care provider. LB337, introduced by Sen. Mark Kolterman of Seward, would adopt the Step Therapy Reform Act.
The bill would allow a provider to request a step therapy override exception and require that the override be granted if all of the following apply:
• a drug required under step therapy is contraindicated by the drug manufacturer's prescribing information or if the drug is likely to cause an adverse reaction, decrease a patient's ability to perform daily activities or cause mental or physical harm to the patient;
• a provider believes a drug prescribed under step therapy will be ineffective because of the drug's characteristics or the patient's experience with the drug;
• a patient previously was prescribed a drug that was ineffective; and
• a patient successfully is being treated by a drug prescribed by his or her provider.
LB337 also would require an insurance company to grant or deny a step therapy override within five days of receiving the request except in urgent care situations.
Kolterman said step therapy can delay access to life-changing treatment.
"We have built a large coalition here in Nebraska with over 45 patient advocacy groups and provider organizations," Kolterman said. "These groups and provider organizations are all committed to seeing some common sense guardrails put into place for the patients of Nebraska."
Lawmakers adopted an amendment 41-0 to clarify that a pharmaceutical sample could not be used to meet the bill's exception requirements. LB337 then advanced to select file on a 43-0 vote.