Bill would require county zoning for wind turbines
The Government, Military and Veterans Affairs Committee heard testimony Feb. 26 on a bill that would require any Nebraska county that wishes to host a wind energy project to establish zoning requirements for such projects.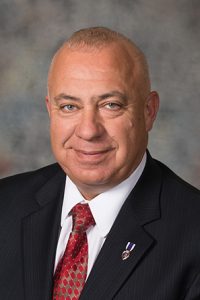 LB424, introduced by Gordon Sen. Tom Brewer, would require, beginning Sept. 1, 2021, that such counties adopt zoning regulations to establish:
• noise standards;
• a decommissioning plan that includes site restoration;
• fees for conditional-use permits for wind energy projects; and
• a fixed-distance setback from residential buildings to wind energy generation facilities.
Brewer said the expansion of wind energy projects has created a "tear in the fabric of communities" in western Nebraska by causing disputes between neighbors and decreasing property values.
"[A nearby wind turbine] has caused you to either not be able to sell your home or have the value of that home degraded," Brewer said.
Terry Madson of the Nebraska Coalition for Responsible Energy testified in support of LB424. He said the bill was not about stopping wind energy development but about protecting property owners.
"It doesn't mean we're opposed to zero-carbon [energy] generation. It doesn't mean that we're necessarily opposed to wind generation. It does mean that it has to be done properly," Madson said.
Larry Allder of Cortland also testified in support. He said LB424 would protect counties that currently do not have zoning laws by establishing a legal framework prior to wind energy development.
"If wind energy is going to go forward in this country it should be done with public support," Allder said.
David Levy testified in opposition to the bill on behalf of BHE Wind. He said the proposal discriminates against the wind energy industry and diminishes local control by mandating county zoning regulation.
"This legislature authorized counties to adopt zoning regulation in 1969, however, neither then, nor since then, has the Legislature saw fit to require counties to have zoning. LB424 would require them to do so — but only for one industry," Levy said.
Elaine Menzel of the Nebraska Association of County Officials also testified in opposition. Counties want to retain control over whether to establish zoning regulations, she said, adding that 35 Nebraska counties already have adopted zoning rules for wind energy facilities.
The committee took no immediate action on the bill.