Grant funding proposed for broadband expansion
Members of the Transportation and Telecommunications Committee heard testimony Feb. 8 on a bill meant to encourage increased broadband availability throughout the state.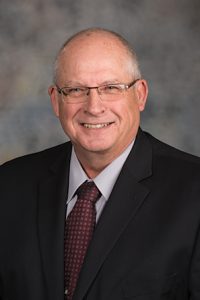 Under LB388, introduced by Henderson Sen. Curt Friesen at the request of the governor, the Public Service Commission would administer grants to providers, cooperatives and political subdivisions to fund qualifying broadband development projects.
Friesen said broadband expansion is one of the most important issues facing the state, especially in rural areas.
"Households rely on internet for education, telehealth and, in many cases, employment," he said. "Bridging the digital divide between urban and rural is the key to helping all Nebraskans stay connected, productive and prosperous."
The bill would appropriate $20 million annually beginning in fiscal year 2021-22 to the commission to fund the grants. Priority would be given to grants to unserved areas that previously have not been targeted for such a project, unserved areas that are receiving federal support for construction that would not be completed within 24 months and underserved areas that have developed a broadband and digital inclusion plan.
Eligibility would be restricted to projects providing broadband internet service scalable to 100 Mbps for downloading and 100 Mbps for uploading, or greater. Each project would have a completion deadline of 18 months from the date the grant is awarded and be eligible for one extension of six months, to be approved by the PSC.
Gov. Pete Ricketts testified in support of LB388. Nebraska is a leader in roads infrastructure, he said, and must become a leader in broadband infrastructure for the state to continue growing. Ricketts acknowledged that the bill includes ambitious goals for internet speed, but said those speeds are necessary to compete in 2021.
"If we're going to invest public taxpayer dollars in creating infrastructure, we ought to invest in quality infrastructure," he said. "Infrastructure that is not going to get us to where we ought to have been before, but to where we need to be to allow students, businesses and health care providers to be able to operate in the 21st century."
Grant applications must be submitted on or before Oct. 1, 2021, for FY 2021-2022, and on or before July 1 for subsequent fiscal years. Political subdivisions would be required to form a public-private partnership with a service provider to qualify for funding under LB388 and include matching funds equal to 50 percent of the total development costs.
Dan Watermeier, PSC chairman, spoke in support of the bill. The PSC can target funding effectively to align with the bill's objectives, he said, and further leverage support because of the commission's familiarity with other funding sources.
"This bill appropriately balances the funding priorities, has practical timelines and has reasonable opportunities for due process for the stakeholders," Watermeier said.
If a grant recipient fails to complete a project within 18 months, 10 percent of the grant would be repaid for each month that the project is not complete, up to 100 percent of the grant. If the project is not complete despite a six-month extension, 20 percent of the grant would be repaid for each month that the project is not complete, up to 100 percent of the original funding.
LB388 would require all grant recipients to conduct randomized speed tests and submit the results to the PSC. If speeds fail to meet the bill's requirements, the provider would be required to repay the grant.
Finally, the bill would require the PSC to publish all grant applicants on its website within three days of the application deadline. Any service provider could, within 30 days, challenge an applicant's eligibility for funding if the applicant already provides broadband or has begun construction in or near the proposed area.
Mark McHargue, Nebraska Farm Bureau President, supported the bill. Rural broadband is an issue of equity and necessity, he said, adding that rural areas of the state should have the same access to broadband as urban areas.
"This would help our state take a significant step forward in bringing broadband to unserved and underserved areas," McHargue said. "It will increase equity in broadband access and bring economic development to counties across the state."
Representing AARP Nebraska, Jina Ragland also spoke in support of LB388. The broadband platform is essential to ensuring access to telehealth, civic engagement, entertainment and online learning, she said, as well as other internet-based applications that address isolation and other health challenges.
"Availability, affordability and reliability of broadband access services are essential to the health and quality of life of Nebraska's older citizens," Ragland said. "It helps older Nebraskans to age in place productively and safely with a higher quality of life than would otherwise exist."
No one testified in opposition to the bill and the committee took no immediate action on it.