Revived land bank bill advances
A bill that would expand the use of land banks advanced from general file July 21.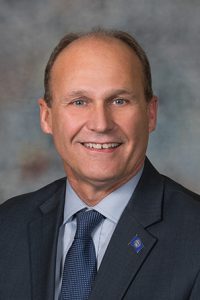 LB424, introduced by Grand Island Sen. Dan Quick, was debated last year but did not advance from general file after a failed cloture motion. It again stalled Feb. 25 when lawmakers moved on without a vote after three hours of debate.
The bill would allow any municipality in Nebraska to join an existing land bank—a tax-exempt political subdivision that acquires, manages and develops vacant and tax-delinquent properties—under the Nebraska Municipal Land Bank Act.
Currently, only municipalities in Douglas and Sarpy counties are eligible under state law to create land banks. As introduced, the bill would allow only metropolitan class cities to create a stand-alone land bank. Omaha is the state's only metropolitan class city.
During a previous round of debate, senators adopted an amendment that would create a system to remove land bank board members for neglect of duty or misconduct.
Quick said blighted properties are costly and time consuming for municipalities to address.
"Cities across the state have been asking for the ability to create and join land banks for several years," Quick said.
Gering Sen. John Stinner supported LB424. He said expanding land bank authority to smaller communities would provide a means to improve dilapidated properties that negatively affect the value of nearby properties.
"This is a solution to a growing problem," Stinner said.
Also speaking in support of the bill was Sen. Carol Blood of Bellevue. She said LB424 would lower municipal expenses by reducing the need to respond to trespassers or put out fires in abandoned buildings. A land bank could address properties in which developers will not invest, she said.
"These properties have serious financial or legal barriers," Blood said. "There's back taxes; there's clouded titles."
Lincoln Sen. Mike Hilgers opposed the bill. He said LB424 was too broadly written and that land banks would not be accountable to either the state or the municipalities where they would be located.
"If we give the authority to people to manage other people's money, there will be problems," Hilgers said.
Sen. Steve Erdman of Bayard also spoke in opposition, saying the government shouldn't be involved in selling real estate.
"These land banks are trying to circumvent what private investors should be doing," he said. "If it doesn't work for the private sector, it won't work for the government to do it."
Omaha Sen. John McCollister said that Omaha's land bank has worked well, without fraud or conflicts of interest, since it was created in 2014.
Quick offered an amendment to address opponents' concerns, which was adopted 37-0. The amendment would prohibit a land bank from issuing bonds, prevent a land bank from investing in a property that could financially benefit a board member, their businesses or their immediate family members, prevent a land bank from receiving property tax revenue from an agreement under the Joint Public Agency Act and allow an entity that creates or joins a land bank to withdraw from the agreement by a two-thirds vote.
An Urban Affairs Committee amendment, adopted 30-0, would allow a primary class city to create a stand-alone land bank. Lincoln is the state's lone primary class city.
Following adoption of the amendments, LB424 advanced to select file 26-11. Twenty-five votes were needed.