Education cleanup bill broadened, advanced
Lawmakers gave first-round approval March 3 to a bill that would make several technical changes to state education law after amending it to include provisions of several other education-related bills.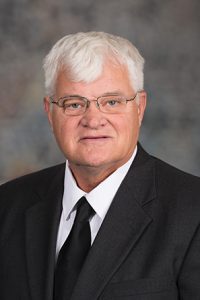 North Platte Sen. Mike Groene, sponsor of LB1131, said it contains technical changes recommended by the state Department of Education, the Coordinating Commission for Postsecondary Education and Education Committee staff.
An Education Committee amendment, adopted 38-1, includes amended provisions of LB640, introduced last session by Omaha Sen. Sara Howard. The provisions would expand the current definition of multicultural education to include studies relative to the Holocaust and other acts of genocide.
"The Holocaust is a vital part of world history that demonstrates the dangers of prejudice, discrimination and dehumanization that is fueled by racism and intolerance," Howard said. "It is my hope that by educating our youth about the past we can prevent these events from happening in the future."
Sen. Megan Hunt of Omaha supported the amendment. At a time when anti-Semitic violence is increasing around the world, she said, students need to learn about the Holocaust.
"It's important to teach these things so that our young people who are the future decision makers … have an understanding of the historical tragedies that are part of all of our history," Hunt said.
Omaha Sen. Ernie Chambers also supported the amendment. He introduced an additional amendment, adopted 34-3, that would add studies relative to slavery, lynching and racial massacres in America to the definition of multicultural education.
"If we're going to start bringing in these types of horrendous crimes against humanity," Chambers said, "we should not forget the crimes against black humanity that took place in America."
Groene opposed the Chambers amendment, saying such subjects, along with genocide, more appropriately would be addressed in Nebraska's social studies standards. He said lawmakers should not include specific instances of genocide or slavery in the multiculturalism statute.
"To pick certain instances in history does our children a disservice," Groene said.
He filed an amendment to remove the provisions of LB640, as amended by the Chambers amendment, from LB1131. It failed on a vote of 10-10.
The committee amendment also includes amended provisions of LB950, introduced by Sen. Dave Murman of Glenvil. As introduced, the bill would modify eligibility requirements for the Access College Early Scholarship Program.
The amended provisions would allow the state commissioner of education to verify certain applicants' eligibility upon request by the Coordinating Commission for Postsecondary Education.
Also included in the committee amendment are provisions of LB1076, introduced by Lincoln Sen. Kate Bolz. Her proposal would allow the state's tribal colleges to participate in the Community College Gap Assistance Program by expanding it to include eligible programs at accredited, nonprofit, two-year postsecondary institutions with a physical presence in Nebraska.
Sen. Sue Crawford of Bellevue introduced an amendment, adopted 41-0, to incorporate provisions of her LB1001 in the committee amendment.
Under her proposal, each school board would require that the phone number for a national or local suicide prevention hotline or a crisis text line is printed on each new student identification card issued to middle school and high school students enrolled in schools under a board's authority, beginning with the 2021-22 school year.
Additionally, each public postsecondary institution authorized to operate in Nebraska would require that one of those numbers be printed on new identification cards issued to enrolled students, beginning with the 2021-22 academic year.
Senators voted 37-0 to advance LB1131 to select file.