Bill would expand handicapped parking permits
The Urban Affairs Committee considered a bill Feb. 25 that would expand access to handicapped parking permits.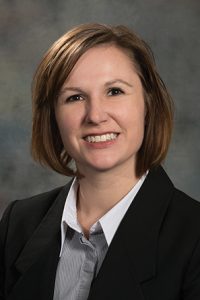 LB976, introduced by Lincoln Sen. Kate Bolz, would allow individuals with a neurological impairment to obtain a state-issued permit. A neurological impairment could include conditions like autism or dementia, Bolz said, or any disorder that interferes with someone's ability to walk.
Currently, a visual or physical impairment is required to obtain a state permit for mobility impairment.
Bolz said that in 2018 the state Department of Motor Vehicles processed 47,136 handicapped parking permits, and there are an estimated 144,000 handicapped parking spaces in Nebraska.
"That does speak to the sufficiency of handicapped parking spots," Bolz said.
Cristal Petersen, whose son has autism, spoke in favor of the bill. She said her son, Max, can become overwhelmed by lights, sounds and other stimuli while transitioning from a vehicle to a building.
This happened on a recent visit to the Capitol, she said, when Max spotted a lid from a fountain drink blowing in the wind. Petersen said Max, who "hates litter," started chasing the lid as it floated toward a busy street.
"Max was moments away from running into traffic," Petersen said. "Imagine if I hadn't been able to stop him."
Terry Streetman, speaking on behalf of the of the Alzheimer's Association Nebraska Chapter, also testified in support of the bill. He said six out of 10 people with dementia will wander, while others can become overwhelmed and disoriented in busy public spaces and find themselves in harm's way.
"The potential consequences of a wandering event for a person with Alzheimer's is severe," Streetman said. "Beyond the direct physical risks, these difficulties can result in a lack of access to social engagement, which has been shown to be very important for people living with cognitive impairment, and even limit access to necessary medical treatment."
No one testified against LB976 and the committee took no immediate action on it.