Public forum requirement proposed
Governmental entities would have to allow a public forum during all meetings subject to the state Open Meetings Act under a bill considered Feb. 20 by the Government, Military and Veterans Affairs Committee.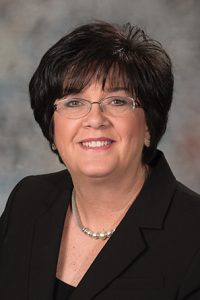 Sen. Joni Albrecht of Thurston said she introduced LB1167 because she heard from constituents that they were not allowed to address elected officials at public meetings.
"If you've been elected by the people and if you are able to decide how to spend the people's money then you are expected to listen to the voices of the people," Albrecht said.
Danielle Conrad, executive director of the ACLU of Nebraska, testified in support of LB1167, saying it would promote open government.
"We frequently are assisting citizens who are trying to engage their government and running into barriers, many times arbitrary barriers," she said.
Doug Oertwich also spoke in support. He said he recently attended a city council meeting in Columbus where no public comment was allowed.
"A lot of people showed up and then they found out they didn't get to speak," Oertwich said.
Shawn Melotz said she began testifying at Papio-Missouri River Natural Resources District meetings in 2004, and spoke during time allotted for items not on the meeting agenda. The following year, that option was discontinued and has not been restored, she said.
"By passing LB1167, the Papio NRD Board and other governmental bodies across the state will no longer be allowed to ignore issues of public concern," Melotz said.
Lynn Rex of the League of Nebraska Municipalities testified against LB1167. Certain meetings, like ones discussing personnel issues, should not have public comment, she said. Rex added that she has attended public meetings where the public forum "turned into a free-for-all."
"Allowing public participation at all meetings sometimes just doesn't work," Rex said. "It's not about not having public participation, it's about doing it in a way that is most respectful and fair to everybody."
Jim Vlach, a member of the Lyons-Decatur Board of Education, also testified against the bill. He said it could provide a venue for personal attacks.
"The retraction never gains as much attention as the headline," Vlach said.
Jack Cheloha, testifying on behalf of the city of Omaha, also spoke against LB1167. He said providing an "open mic" opportunity on a public meeting agenda would be unproductive.
"Open comment periods can have the unintended consequences of providing a forum for items unrelated to city business," Cheloha said.
The committee took no immediate action on LB1167.