Updated utility disconnection requirements proposed
Public and private utility companies could not charge an unreasonable fee for the discontinuance or reconnection of service under a bill heard Feb. 13 by the Natural Resources Committee.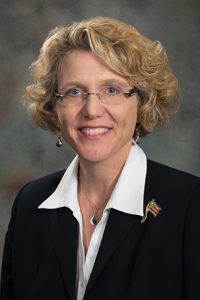 Sen. Sue Crawford of Bellevue, sponsor of LB933, said the bill contains several "small but important shifts" in state law regarding utility shutoffs that would give those with serious medical challenges more flexibility.
"No one should have to die because they were late on their electric bill," she said.
Current law prohibits most public and private utilities from discontinuing service to subscribers for nonpayment unless it first notifies them.
The notice must include a statement to the effect that disconnection may be postponed or prevented if a subscriber presents a note from a physician certifying that the subscriber or a resident in the subscriber's household "has an existing illness or handicap which would cause such subscriber or resident to suffer an immediate and serious health hazard by the disconnection of the utility's service to that household."
The subscriber must file the certificate with the utility within five days of receiving the notice. The certificate prevents disconnection for 30 days.
LB933, as introduced, would extend that grace period to at least 60 days and allow the certificate to be provided by a physician's assistant or advanced practice registered nurse. It also would give customers five business days to file the certificate.
Additionally, the bill would prohibit a public or private utility company from charging a fee for the discontinuance or reconnection of service that exceeds the reasonable costs of providing such service.
Crawford said the bill would make additional changes to clarify that utilities are required to postpone a disconnection upon presentation of the certificate and to allow utilities to determine whether they will provide more than one postponement for each incident of nonpayment.
Finally, LB933 would require a public or private utility company to make certain service termination information "readily accessible to the public" on its website and available by mail upon request.
Crawford said a forthcoming amendment would leave the current 30-day grace period in place as a result of a compromise with utilities.
Trisha Thompson of Nebraska Appleseed testified in support of the bill. She said a Nebraska Appleseed study of the shutoff policies, rates and fees of approximately 70 Nebraska power providers found that more than 10 percent had no formal written policy related to service disconnection, underscoring the need to require companies to post that information.
Also testifying in support was Kathy Kay of the League of Human Dignity. She said LB933 would help protect Nebraskans who rely on electricity for mobility, oxygen, dialysis or heart monitoring from the possibly dangerous consequences of utility shutoffs.
"A bill that would provide a reasonable … notification timeframe and then remedies for then paying off unpaid balances is not only humane but potentially lifesaving," Kay said.
Karen Bell-Dancy, executive director of the YWCA of Lincoln, also testified in support. She said a survey of YWCA program participants found that utility shutoffs can often lead to eviction, loss of housing assistance and the removal of children from a home.
"We are concerned about the frequency of this happening and the lack of process in place to protect Nebraskans who are facing difficult times," Bell-Dancy said.
Kristen Gottschalk of the Nebraska Rural Electric Association provided neutral testimony on the bill. She said the association opposed the original bill's proposed extension of the grace period to 60 days out of concern that it would allow a customer to go further into debt.
Gottschalk said few disconnections take place after a notice is sent and that NREA members work with customers who have trouble paying their bills. The vast majority of its members have never disconnected a customer after confirming that the person had a medical condition, she said.
Gottschalk said the NREA supports the rest of the proposed changes, but suggested that greater coordination and awareness of the programs available to help those facing utility shutoffs also could help address the problem.
No one testified in opposition to LB933 and the committee took no immediate action on it.