State may acquire Grand Island cemetery
The state of Nebraska would acquire a veterans' cemetery in Grand Island under a bill discussed Jan. 30 by the Government, Military and Veterans Affairs Committee.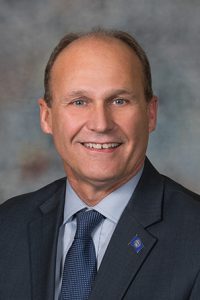 LB911, introduced by Grand Island Sen. Dan Quick, would enable the city to gift the former Nebraska Veterans' Memorial Cemetery and adjacent land to the state in order to establish a new state cemetery for veterans. The bill also would require the state Department of Veterans' Affairs to apply for funding assistance from the federal government.
The cemetery is on the former grounds of the Nebraska Veterans' Home, Quick said, and currently is owned by the city of Grand Island.
"It would be meaningful for our veterans and their families to celebrate and honor our veterans at this facility," Quick said.
Funeral home director Daniel Naranjo testified in support of the bill. He said there are approximately 1,600 graves at the six-acre site, dating from the Civil War to present day.
"By adopting LB911, as Nebraskans, we will assure the continued care of these veterans resting on these holy grounds, and provide future burials for the men and women who currently serve in the armed forces," Naranjo said.
John Hilgert, director of the Nebraska Department of Veterans' Affairs, also testified in support, though he noted "some technical issues" that need to be addressed. In particular, Hilgert said there is no money in the current budget to fund the project, but he would like to explore alternative funding that could allow it to begin sooner.
Grand Island City Administrator Jerry Janulewicz said he supported the bill after a process for obtaining the land was added. Under LB911, the state director of Veterans' Affairs would have to request funding by Sept. 15, 2020, giving the city and the state enough time to negotiate, he said.
No one testified in opposition to LB911 and the committee took no immediate action on it.