Grocery stores and other retailers would charge customers 5 cents for each single-use plastic checkout bag that they provide under a proposal heard Jan. 30 by the Revenue Committee.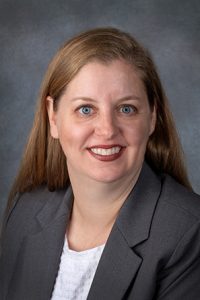 Bennington Sen. Wendy DeBoer, sponsor of LB905, said she introduced the bill on behalf of students at Omaha Northwest High Magnet School and the University of Nebraska at Omaha Service Learning Academy.
"The issue of plastic litter and excessive use of these thin, film-like plastic bags is one which I believe to be increasingly problematic," she said. "We have here an opportunity to begin to address the issue."
Three cents of the fee would go to the state's general fund, 1 cent could be withheld by stores to reimburse them for collecting the fee and the remaining cent would go to a fund administered by the state Department of Environment and Energy.
The department would use the fund to create a program to provide reusable checkout bags to the public. LB905 provides that the bags would contain recycled materials, meet certain durability requirements and be washable a certain number of times. The director could enter into agreements for the design, creation and distribution of the bags.
Stores would collect and remit the fees to the state Department of Revenue in the same way as sales and use tax.
The fee would apply only to plastic bags of a certain thickness. Bags provided to contain meat, seafood, loose produce or other unwrapped food items; newspaper bags; and laundry or dry cleaning bags would not be subject to the fee.
DeBoer said the bill's fiscal note bears out the idea that the fee would induce a change in consumer behavior.
The state Department of Revenue estimates that the fee would generate $4.9 million in fiscal year 2020-21 and an additional $9.5 million in FY2021-22. Assuming that people would use fewer plastic bags because of the fee, that figure would decline to $7.2 million in FY2022-23 and $4.8 million in FY2023-24.
Lillian Hughes testified in support of LB905. She said cutting plastic bag use would reduce litter, prevent harm to wildlife and decrease costs associated with the bags, such as clogged storm drains and jammed sorting machines at recycling plants.
"As a state, we have a responsibility to do our part in reducing pollution, habitat degradation, loss of wildlife and ultimately harm to people," Hughes said.
Annie Nelson also testified in support, saying that plastic use endangers our food and water supply. Plastic bags do not biodegrade, she said, and so will persist in the environment for centuries.
Nelson said researchers have found microplastics—small pieces of plastic that have degraded from larger pieces—in oceans, rivers and even Nebraska groundwater. Microplastics also can affect soil health, she said.
"Taxing plastic bags to change consumer behavior is the first step in supporting healthy and sustainable practices within our environment," Nelson said, "and it's crucial to the well being of people and wildlife in Nebraska."
Kathy Siefken testified in opposition to LB905 on behalf of the Nebraska Grocery Industry Association, the Nebraska Chamber of Commerce and Industry, the Nebraska Retail Federation and the Nebraska Restaurant Association. She said retailers buy plastic bags and provide them to customers for convenience.
"[LB905] turns this into a revenue stream for the state of Nebraska," Siefken said. "We don't really approve of that concept.
She said the fee would encourage more people to use paper bags, which are worse for the environment than single-use plastic bags because they require more resources to make. And although plastic bags are a visible source of litter, Siefken said, they comprise only about 10 percent of plastic waste.
"Plastic bags really aren't the problem," she said. "The problem [is] the people and the way they are disposing of the plastic bags."
Dustin Antonello testified in opposition to the bill on behalf of the Lincoln Independent Business Association. He said the fee would create an inconvenience for small businesses and consumers for little environmental benefit. According to the U.S. Environmental Protection Agency, he said, plastic bags make up less than 1 percent of municipal plastic waste.
Higher use of reusable bags also has been found to increase shoplifting, he said, and the bags can cause foodborne illness if consumers do not wash them regularly.
The committee took no immediate action on LB905.