Gender neutral option discussed for driver licenses, state IDs
State government identification forms would recognize gender neutral individuals under a bill heard by the Judiciary Committee Jan. 29.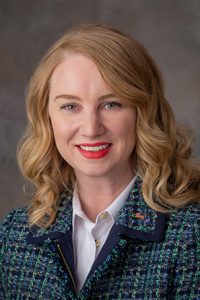 Currently, a person applying for a driver license or state identification card must indicate their gender as either "female" or "male." LB873, sponsored by Omaha Sen. Megan Hunt, would add "non" as a third option.
Hunt brought an amendment to the committee that would change the "non" option to an "X," a standard adopted by other states that have passed similar legislation.
A 2015 survey conducted by the National Center for Transgender Equality showed just how difficult life can be when a person's government-issued ID does not match their gender presentation, Hunt said. According to the survey, nearly one-third of respondents reported verbal harassment, were denied benefits, asked to leave an establishment or assaulted, she said.
The ability to change one's documentation or status can have a significant impact on all other aspects of a person's life, she said, including employment, marriage, inheritance rights and simply conducting the business of life.
"In order to live safe, full and authentic lives, it is essential that transgender people have access to identity documents such as photo identification and birth certificates that accurately reflect their name, gender identity and gender expression," Hunt said.
The bill also would create an additional process to amend a birth certificate to reflect an applicant's gender. Currently, a person can amend their birth certificate by providing an application and a notarized affidavit from the physician who performed their gender confirmation surgery to the state Department of Health and Human Services.
LB873 would allow a person to file a petition in district court requesting that their gender be changed on an amended birth certificate, without submitting proof of a gender confirmation procedure.
Abbi Swatsworth, executive director of OutNebraska, testified in support of LB873. A growing number of people use the term nonbinary to describe themselves and choose to use gender neutral pronouns, she said, making it clear that the number of people who would benefit from gender neutral identification is increasing.
"In addition to being a safety issue, gender neutral driver licenses are an issue of inclusion and a signal that Nebraska acknowledges the diversity of the people who live, work and play in our state," Swatsworth said.
After persistent misgendering by family members—which caused severe disorientation and dysphoria—severing those family ties was necessary for Victory Klafter of Lincoln, who also supported the bill.
"I grieve that very much, but it put a little fuel in my fire to come in front of you today," Klafter said. "If my family won't respect me and identify me as who I am, I want my government to."
Opposing the measure was Julie Maaske, deputy director of the state Department of Motor Vehicles. A provision in the bill that would make gender immaterial to the issuance of a driver license or identification card would put Nebraska out of compliance with the 2015 federal Real ID Act, she said.
"Falling out of compliance with the act will mean Nebraska documents would not be accepted for federal identification purposes, such as boarding a commercial aircraft, entering federal buildings or entering military institutions," Maaske said.
The committee took no immediate action on the bill.