Public power district authority to develop biofuels proposed
Nebraska's public power districts could develop and manufacture biofuels under a bill heard Jan. 23 by the Natural Resources Committee.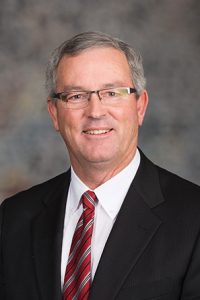 LB899, introduced by Venango Sen. Dan Hughes, would authorize a public power district to "develop, manufacture, use, purchase or sell biofuels and biofuel byproducts and other fuels which help reduce greenhouse gas emissions."
Hughes said he brought the bill on behalf of the Nebraska Public Power District. The public power industry already has been authorized to sell ethanol, he said, so it would be appropriate to allow them to explore new technology and biofuels that could be financially beneficial.
Hughes brought an amendment to the hearing that he said would limit public power districts' new authority to "advanced biofuels" and their byproducts so long as the development, manufacturing, purchase or sale of those fuels is done to help offset greenhouse gas emissions.
John Swanson testified in support of the bill on behalf of the Nebraska Public Power District and the Nebraska Power Association. Swanson, director of generation strategies at NPPD, said advanced biofuels are those made from any nonfood biomass source such as animal waste and the nonedible parts of plants, including corn stover.
He said NPPD has partnered with Monolith Materials, a company that will produce carbon black at a site near Hallam beginning this year. NPPD will buy hydrogen-rich gas produced as a byproduct at that facility and burn it in one of its boilers at Sheldon Station instead of coal, Swanson said, reducing the plant's carbon dioxide emissions, which are produced when fossil fuels are burned.
Swanson said LB899 would allow NPPD to develop technology to produce other biofuels such as methanol using Monolith's hydrogen and the carbon dioxide from one of NPPD's power plants or the leftover biomass from a Nebraska ethanol plant, which would reduce either facility's greenhouse gas emissions.
"We believe LB899 will allow public power utilities to reduce their carbon footprint while serving customers with low-cost and reliable electricity and contributing to the economic development of the state," he said.
Jill Becker testified in opposition to the bill on behalf of Black Hills Energy, saying that the natural gas industry also is involved in developing advanced biofuels. She said the bill's language is overly broad and provides the public power industry "a path into what is essentially our core business."
Troy Bredenkamp, executive director of Renewable Fuels Nebraska, the trade association representing the state's ethanol industry, provided neutral testimony.
Anything that would reduce the public power industry's carbon dioxide emissions would help Nebraska ethanol producers, he said, but the group supports Hughes' amendment that would allow public power districts to develop only advanced biofuels, not ethanol.
"Public power's ability to lower their greenhouse gas emissions would be a benefit to my ethanol plants simply because we can then lower our carbon intensity score for the ethanol that we produce," he said, "and that increases [the] value of our ethanol when we sell it into low-carbon fuel markets like California."
The committee took no immediate action on the bill.