Bill would eliminate waiting period for voting rights
The Government, Military and Veterans Affairs Committee heard testimony March 6 on a bill that would allow Nebraskans convicted of a felony to have their voting rights restored sooner.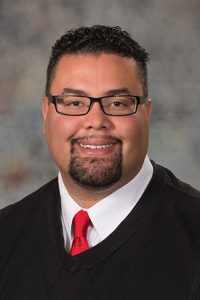 LB83, introduced by Sen. Justin Wayne of Omaha, would restore voting rights upon completion of a felony prison sentence or probation. Currently, ex-felons must wait two years before being able to register to vote.
Wayne said the original purpose of barring ex-felons from voting was to reduce the number of black voters. Voting increases engagement with a community and engaged ex-felons are much less likely to commit another crime, he said.
"This is a fundamental right that most conservatives agree with," Wayne said. "When people make their mistakes there shouldn't be an arbitrary two-year waiting period."
Shakur Abdullah of Omaha testified in support. He said he cast the first vote of his life last November after serving a lengthy prison sentence.
"It was the most uplifting, cathartic thing I've participated in since my release," Abdullah said.
The two-year waiting period, Abdullah said, made him feel like he was still serving his sentence long after leaving prison.
Dewayne Mays of the Lincoln Branch NAACP testified in favor of LB83. He called the current law "double jeopardy" that disproportionately disenfranchises non-white people and the poor. He said about four million Americans are unable to vote because of a felony conviction.
"Providing a citizen with the right to vote is the most effective tool for rehabilitation and integration into society," Mays said.
Jason Ables of Lincoln also spoke in favor of the bill. Ables said he watched the 2016 election results while in prison, unable to vote. He also was unable to vote in 2018, despite being out of prison. His voting rights will not be restored until later this year.
"Is a felony a legitimate threshold to disenfranchise people from the right to participate in our community at the most fundamental level? I don't think so," Ables said.
No one spoke in opposition to LB83 and the committee took no immediate action on it.