Nonpartisan county election bill considered
Counties of 15,000 or fewer residents could hold nonpartisan county primary elections under a bill considered by the Government, Military and Veterans Affairs Committee Feb. 27.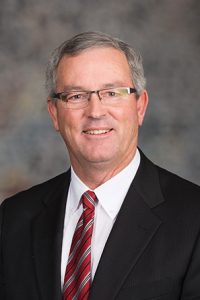 LB144, introduced by Sen. Dan Hughes of Venango, would allow a qualifying county, either through a voter-approved county board resolution or citizen petition, to remove political party labels from the primary election ballot for all elected county offices. The top two candidates would advance to the general election regardless of party affiliation. Party labels would appear on the general election ballot.
Hughes said that in the 74 Nebraska counties with fewer than 15,000 residents, political parties are less organized. Residents in rural counties often base their votes on personal knowledge of candidates, he said.
Hughes recalled a 2014 election in Red Willow County in which four candidates, all Republican, ran for sheriff.
"The Republicans in that county decided who their sheriff should be," Hughes said.
JD Schluntz, a former Harlan County supervisor, testified in favor of the bill. The current system discourages voting because many elections essentially are decided in the primary election, effectively shutting out voters from other parties, he said.
"If you're a Democrat and it's only Republicans running, what's the use of you voting?" Schluntz said.
Westin Miller of Civic Nebraska also testified in favor of the bill. He said elections are better when they are about candidates and not parties.
"Party affiliations can give you a general idea about a candidate, but they can also inhibit you from knowing that candidate themselves," Miller said.
No one testified against LB144 and the committee took no immediate action on the bill.