Eminent domain restriction fails to advance
A bill that would curtail certain uses of eminent domain failed to advance from general file Feb. 27.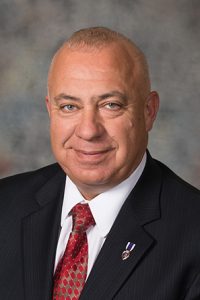 A private citizen no longer would be able to request the use of eminent domain in order to provide access to build transmission lines or other infrastructure related to a privately developed wind energy project under LB155, introduced by Gordon Sen. Tom Brewer.
"Next to property taxes, there is nothing more important to my district than the ongoing, adverse effects wind energy is having on my constituents," Brewer said.
Brewer called the current law "immoral" and said the threat of eminent domain was "a loaded gun in the room" during negotiations regarding access to land.
Sen. Bruce Bostelman of Brainard said he supported the bill. He compared using eminent domain to build a wind turbine to a grocery store using eminent domain to create parking lot access by building a road through someone's back yard.
Sen. Curt Friesen of Henderson also supported LB155, saying wind energy companies "target absentee landlords" to surround and subsequently pressure resistant land owners to allow access to their land. He said the bill would help give resistant land owners a better negotiating position.
Omaha Sen. John McCollister said the bill sends a message that Nebraska opposes renewable energy. He said the bill was unnecessary because no Nebraskan has used the power of eminent domain allowed under current law to gain access to a neighbor's land.
McCollister added that LB155 would take away the authority of counties to regulate wind energy.
Also speaking against the bill was Sen. Steve Lathrop of Omaha. In the future, he said, Nebraska will need to generate more renewable energy and it must expand wind farming to do so.
"This is going to impair the growth of wind energy development, which may be the fundamental purpose of the bill," Lathrop said.
Lincoln Sen. Anna Wishart expressed concern about the message LB155 would send. She said renewable energy could allow Nebraska to be energy independent and that the state could raise revenue by exporting energy generated through renewable sources.
"We are moving globally in the direction of clean energy. We are recognizing the need to move quicker than we have in the past," Wishart said. "I don't think we should be going in an anti-business, anti-renewable energy direction."
Senators voted 23-8 on advancement of LB155 to select file—two votes short of the number required.