Wrongfully incarcerated could file claim with state
The state of Nebraska could be financially liable for certain federal judgements under a bill considered Feb. 21 by the Judiciary Committee.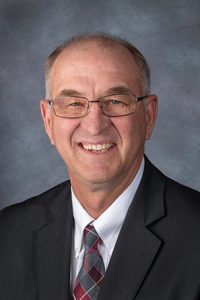 Under LB474, sponsored by Adams Sen. Myron Dorn, a person who obtains a final federal court judgement for damages arising from a wrongful conviction or incarceration due to a violation of constitutional rights could file a claim against the state for payment of those damages, if the amount exceeds the available financial resources of the political subdivision.
The bill also would allow the political subdivision to file a claim with the state for payment of such damages independently of the successful claimant.
Dorn said he brought the bill in response to the $28.1 million in damages awarded to the six men and women wrongly convicted of the beating death of a Beatrice woman in 1985, commonly referred to as the "Beatrice Six." The six individuals sued Gage County in federal court after they were exonerated by DNA evidence.
"Throughout the last several years … the message has been that the state would not entertain any financial assistance until a final judgement was awarded," Dorn said.
Erich Tiemann, Gage County Board of Supervisors chairman, spoke in support of the bill. Gage County has increased its property tax rates to the maximum levy to pay the settlement, he said, which will negatively impact farmers and stunt economic development.
"We've maxed out our … property taxes and will maintain at that level for the better part of the decade, if not longer, depending on valuations," Tiemann said.
Gage County farmer Art Nietfeld testified in favor of the bill, saying he most likely would pay an additional $10,000 in property taxes each year to pay for the settlement.
"While I believe the Beatrice Six were done a very grave injustice, I also believe the wrong group of people will be paying for [it]," he said.
Lyle Koenig, an attorney who originally represented wrongfully-convicted Ada JoAnn Taylor at trial, also supported LB474.
He said five of the six defendants accepted plea deals and admitted guilt to avoid going to trial and potentially receiving the death penalty. Had the death penalty not been threatened, Koenig said, the defendants might not have accepted deals.
"The civil justice system has decided they're entitled to $28 million, but if nobody pays it, they're still victims," he said. "If Gage County can't pay it, then there's an additional injustice imposed upon these people."
No one testified in opposition to the bill and the committee took no immediate action on it.