Bill seeks to ban call spoofing
The Transportation and Telecommunications Committee heard testimony Feb. 19 on a bill that would prevent telemarketers from knowingly manipulating caller ID information.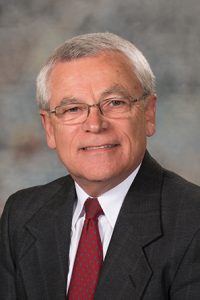 LB693, sponsored by Hastings Sen. Steve Halloran, is intended to target companies that use caller ID to make it appear as though phone calls are from a trusted number—a process known as "spoofing."
As originally introduced, the bill would have prohibited any person from selling or renting a phone number to an out-of-state entity unless the telephone number is publicly listed and could be verified by a telecommunications provider.
Halloran brought an amendment to the committee that would replace the original bill.
As amended, LB693 would prohibit any person working in connection with a telecommunications service or internet-enabled voice service from causing a caller ID service to knowingly provide misleading or inaccurate information with the intent to defraud, harm or wrongfully obtain anything of value.
The bill would not harm legitimate telemarketers, Halloran said, but rather help the industry and protect the people of Nebraska.
"The changing of the number and source location identification poses a significant risk to the person receiving the call, but also the person or business [whose number] has been spoofed," he said.
The bill's provisions would not apply to authorized law enforcement activity or a court order that authorizes caller ID manipulation. The Nebraska Public Service Commission would be authorized to impose administrative penalties on violators of the act, not to exceed $2,000.
Meghan Stoppel, director of the state attorney general's Consumer Protection Bureau, supported the bill. Spoofing protections exist at the federal level, she said, but neither federal nor state law gives the Nebraska attorney general adequate enforcement or investigatory tools such as subpoena power.
"Caller I.D. spoofing per se is not unlawful and almost any attempt to make it so would be challenged and be struck down," Stoppel said. "LB693, as amended, gives the enforcement authority to the attorney general, in addition to the PSC, and fills a gap that currently exists in Nebraska law."
Eric Carstenson, representing the Nebraska Telecommunications Association, opposed the bill. He suggested that the Legislature wait for federal lawmakers to approve similar legislation that currently is pending.
"It would be a problem to have a patchwork of different state regulations … which are more difficult to manage from state to state," Carstenson said.
The committee took no immediate action on the bill.