Correctional system oversight, children's commission changes proposed
The Executive Board heard testimony Feb. 20 on two bills that would expand legislative oversight of the state's correctional system and bring the Nebraska Children's Commission under the administration of the Legislature.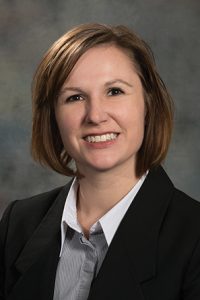 Under LB313, introduced by Lincoln Sen. Kate Bolz, the Office of the Inspector General of the Nebraska Correctional System would expand its oversight to include the state's regional centers. The three regional centers are public psychiatric hospitals that provide sex offender programs and other services.
Bolz said the bill would provide an independent form of inquiry for concerns regarding the actions of individuals and agencies responsible for the supervision, treatment and release of people in the regional centers.
Among other provisions, the bill would authorize the inspector general to investigate allegations or incidents of possible misconduct, violations of state law or rules and regulations and death or serious injury.
"This bill is brought, in part, because the regional center system has faced some growing personnel and facility challenges in recent history," Bolz said, including turnover and vacancy rates, increased staff and patient assaults and the placement of children in the facilities.
Ron Glover, a regional center employee who said he is on leave due to a traumatic brain injury resulting from an assault suffered while on duty, testified in support of the bill.
Glover called the lack of regional center oversight "exceptionally offensive" and encouraged passage of the bill to ensure that the state Department of Health and Human Services is held accountable for how the facilities are operated.
Sheri Dawson, director of the DHHS Division of Behavioral Health, testified in opposition. The state's regional centers are hospitals and treatment facilities, not correctional facilities, she said, and should be governed and overseen as such.
In addition, Dawson said, the Office of the Public Counsel already has the power to investigate cases of serious injury or death and other situations.
"It's unclear what cannot already be addressed by current law and current practice," she said.
Doug Koebernick, inspector general of the Nebraska correctional system, testified in a neutral capacity. Adding oversight of the state's regional centers to the office's duties would require hiring additional staff, he said.
"Currently, I am on office of one person," Koebernick said, which oversees more than 2,300 employees and approximately 5,500 incarcerated individuals in 10 correctional facilities.
Also considered was LB330, introduced by Bolz, which would eliminate the July 2019 termination date for the Nebraska Children's Commission. Bolz said the commission was established in 2012 in response to the state's failed attempt to privatize Nebraska's child welfare system.
Under the bill, the commission would become a permanent forum for collaboration among state, local, community, public and private stakeholders in child welfare and juvenile justice programs and services. The bill also would streamline the commission's duties and shift its administration to the Legislature.
"I argue that there is a need for a permanent, collaborative forum to bring together [entities] and provide strategic problem-solving for a variety of children's services and systems," Bolz said.
Chris Jones, policy analyst for the commission, testified in support of the bill. Since its creation, she said, the commission has kept the Legislature informed about how best to create policy to serve Nebraska's children and families and should continue to do so.
"In this era of term limits, I believe there is great value in this commission," Jones said.
Matt Wallen, director of the DHHS Division of Children and Family Services, opposed LB330. The state's child welfare system has changed significantly since the commission was founded, he said, and continuing it would be duplicative of many other existing collaborative entities.
"It was a very different time and a very different system at that time," Wallen said. "We've made significant improvements, with many more still to come."
The committee took no immediate action on either proposal.