Early childhood development bill advances
Local tax revenue could be used for early childhood development infrastructure under a bill advanced to select file Feb. 13.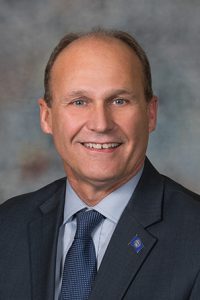 LB160, introduced by Sen. Dan Quick of Grand Island, would expand the Local Option Municipal Economic Development Act, which was passed in 1991. The act allows first- and second-class cities and villages to use local tax dollars for economic development projects through voter-approved grants and loans.
LB160 would add early childhood development infrastructure to the law's scope. Current approved uses include low-income housing and workforce relocation incentives.
Quick called LB160 a logical extension of the existing law, and said it would help businesses recruit workers whose children need access to child care.
"I think this bill is a great example of local control, and another option for our communities to provide quality early child care," he said.
Sen. Mike Groene of North Platte said the bill is unnecessary for towns of fewer than 2,500 residents, which he said already have the authority to achieve the bill's aims.
"If you're a town of under 2,500, you have a blank check. You can use [Local Option Municipal Economic Development Act] funds for any business you deem proper," Groene said.
As introduced, LB160 would require a qualifying early childhood education program to meet at least the step three level of quality as defined by the Step Up to Quality Child Care Act. Groene, along with Sens. Joni Albrecht of Thurston and Steve Erdman of Bayard, raised concerns about the provision as overly restrictive.
An amendment introduced by Sen. Justin Wayne of Omaha eliminated the requirement on a 33-0 vote. Senators then advanced the amended bill 31-0.