Free speech protections proposed for student journalists, advisors
A bill heard by the Judiciary Committee Feb. 1 would expand protections to student journalists.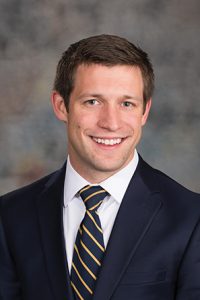 LB206, introduced by Lincoln Sen. Adam Morfeld, would extend the full right to exercise freedom of speech and press that is provided to professional members of the media to high school and postsecondary student journalists, as well as their media advisors.
Morfeld said the protection of student journalists' First Amendment rights is critical to the development of current and future civic leaders.
"Many administrators and school board members have concerns about this bill because it limits the control they currently have," he said. "It is a necessary and important part of our democracy and critical to teach the incredible power and consequences of the First Amendment."
The bill would not protect any expression by a student journalist that is libelous or slanderous, constitutes an unwarranted invasion of privacy, violates state or federal law or incites students to engage in an unlawful act.
Student journalists and advisors would not be subject to discipline for exercising their rights protected under the bill.
Hadar Harris, executive director of the Student Press Law Center, spoke in support of the bill. She said a 1969 U.S. Supreme Court decision established a broad interpretation of student journalists' First Amendment rights.
"This does not create a new set of student rights, but reestablishes the standard set by Tinker v. Des Moines," Harris said. "This is not a legislative overreach. It is a common-sense, well-articulated set of parameters [for student journalists]."
Ben Randall, a high school journalist from Gretna, also supported LB206, saying he was prevented by his school administration from explicitly criticizing the U.S. president and the proliferation of "fake news."
"The longer we allow our kids to fall back under administrative review, the farther we are set back," he said. "We are in a time when our journalism must be noble, concise and must cover every side of the story."
Student journalists must have a safe environment in which to learn, said McKayla Vermeer of Bellevue. During her work as a co-editor-in-chief of her school newspaper, Vermeer said she has been prevented from writing stories based on potential backlash.
"If students are being taught how to be proper journalists, there should be no concern about what they're producing and no need for censorship," she said. "I'd prefer to publish a piece that later receives some backlash than not be able to produce a story in the first place."
Opposing the measure was Marion Miner, representing the Nebraska Catholic Conference. He said a private religious educational institution could not be compelled to disseminate messages that are in violation of the institution's values.
"This would deprive a religious educational institution the ability to discipline a student media advisor or student who engages in behavior that does not align with the beliefs and mission of the school," Miner said.
The committee took no immediate action on LB206.