Bill would clarify Offutt land jurisdiction
A bill intended to clarify jurisdiction over five tracts of land inside the fence line of Offutt Air Force Base was heard Jan. 30 by the Government, Military and Veterans Affairs Committee.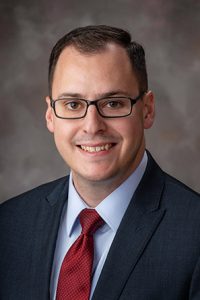 Gretna Sen. Andrew La Grone, sponsor of LB214, said the bill would provide the federal government with exclusive jurisdiction over the land, which is near two of the base's gates and under a dormitory. Currently, he said, the federal government owns the land but has only propriety jurisdiction over it.
As a result, he said, Nebraska does not own the approximately 80 acres, but the state is responsible for law enforcement on the land. This can cause confusion in emergency response situations, he said, adding that clarifying the jurisdiction would alleviate an administrative issue for the base.
"I think it's incredibly important that we do everything we can to support Offutt—to keep it here, to keep this vital part of our economy in place and to support the members of our military that are living in Nebraska," La Grone said.
Doug Carlson, deputy director of the state Department of Administrative Services, testified in support of the bill. The jurisdictional issue is especially problematic on the tract of land that includes dormitories, he said, because sometimes the dividing line between propriety and exclusive jurisdiction is nothing more than a hallway.
"[LB214] creates clarity and simplicity for law enforcement and our military by providing the appropriate jurisdiction at Offutt Air Force Base," Carlson said.
No opposition testimony was offered and the committee took no immediate action on the bill.