Day eight bill introduction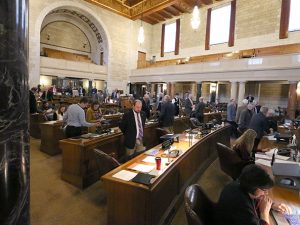 Senators reconvened Jan. 18 to introduce new bills.
Among the 73 measures introduced were:
LB413, sponsored by Plymouth Sen. Tom Brandt, which would change application submission deadlines under the Nebraska Advantage Act;
LB418, sponsored by Omaha Sen. Machaela Cavanaugh, which would change provisions relating to certain medical debt collection involving workers' compensation;
LB421, sponsored by Lincoln Sen. Mike Hilgers, which would adopt the Asbestos Trust Claims Transparency Act;
LB424, sponsored by Grand Island Sen. Dan Quick, which would change the Nebraska Municipal Land Bank Act;
LB432, sponsored by North Platte Sen. Mike Groene, which would include tax-increment financing valuation in adjusted valuations for purposes of state aid to schools and change school district levy authority;
LB438, sponsored by Lincoln Sen. Anna Wishart, which would designate the Nebraska State Patrol as the agency to investigate criminal activity within Department of Correctional Services facilities and the Lincoln Regional Center;
LB445, sponsored by Omaha Sen. Mike McDonnell, which would require a city of the metropolitan class to provide an annual budget report relating to use of any occupation tax levied and collected;
LB463, sponsored by Gothenburg Sen. Matt Williams, which would change provisions relating to treasurer's tax deeds and tax sale certificates;
LB474, sponsored by Adams Sen. Myron Dorn, which would change provisions relating to claims against the state for wrongful incarceration and conviction; and
LB478, sponsored by Omaha Sen. Tony Vargas, which would prohibit use of consent by a minor as a defense or mitigation of damages or liability in certain civil actions arising from sexual assaults.
A complete list of bills introduced thus far is available at NebraskaLegislature.gov. New bills may be introduced for the first 10 legislative days, or until Jan. 23.