Day six bill introduction
Senators reconvened Jan. 16 to introduce new bills.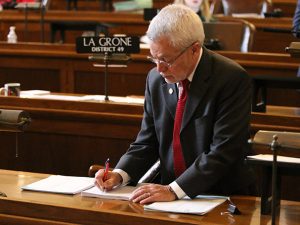 Among the 66 measures introduced were:
LB313, sponsored by Lincoln Sen. Kate Bolz, which would provide the office of Inspector General of the Nebraska Correctional System with oversight over regional centers;
LB315, sponsored by Seward Sen. Mark Kolterman, which would provide for an inheritance tax exemption and change certain inheritance tax proceedings;
LB334, sponsored by Gering Sen. John Stinner, which would eliminate funding for the Angel Investment Tax Credit Act and increase funding and eliminate the termination date for the Business Innovation Act;
LB343, sponsored by Hastings Sen. Steve Halloran, which would adopt the School Safety Rapid Response Option Act and authorize schools to allow employees to carry concealed handguns;
LB347, sponsored by Glenvil Sen. Dave Murman, which would exempt reflexology from licensure under the Massage Therapy Practice Act;
LB358, sponsored by Fremont Sen. Lynne Walz, which would change provisions related to early childhood education in the Tax Equity and Educational Opportunities Act;
LB363, sponsored by Lincoln Sen Matt Hansen, which would adopt the In the Line of Duty Compensation Act;
LB366, sponsored by Brainard Sen. Bruce Bostelman, which would change registration fees for alternative fuel-powered motor vehicles;
LB368, sponsored by Venango Sen. Dan Hughes, which would eliminate overappropriated river basins, subbasins and reaches; and
LB376, sponsored by Henderson Sen. Curt Friesen, which would provide for safekeeping of prisoners.
A complete list of bills introduced thus far is available at NebraskaLegislature.gov. New bills may be introduced for the first 10 legislative days, or until Jan. 23.