Collocation regulations for small wireless facilities debated
Lawmakers debated a bill April 4 that would give wireless communications providers the right to collocate small cell wireless technology in public rights of way.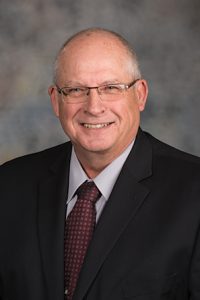 Introduced by Sen. Curt Friesen of Henderson last session, LB389 is intended to create uniform, statewide standards for the regulation and deployment of small wireless facilities, or small cells.
Friesen said 13 other states, including Colorado, Iowa, Kansas and Minnesota, have passed similar legislation. Wireless companies are set to spend hundreds of millions of dollars in Nebraska to install small cells, which are short-range cellular nodes needed to support fifth-generation wireless technology, called 5G. But without the "regulatory relief" that LB389 would provide, Friesen said, wireless companies will invest in those other states first.
"A yes vote supports accelerated deployment of small cell for 5G technology," he said, "while a no vote lets other states leapfrog Nebraska and send a signal that we aren't open for business."
A pending Transportation and Telecommunications Committee amendment would replace the bill. It would allow a wireless provider to collocate, or attach, small wireless facilities to wireless structures and utility poles and install, maintain, modify, operate and replace utility poles in the public right of way.
The amendment defines a small wireless facility as one with an antenna enclosure of no more than 6 cubic feet in volume; other equipment associated with the facility could be no more than 28 cubic feet in volume.
A political subdivision, or authority, could require an applicant to obtain one or more permits to collocate a small wireless facility or install a new, modified or replacement utility pole associated with a small wireless facility. The application would be deemed approved if the authority fails to approve or deny the application within 90 days after receipt.
An authority could deny an application only under certain conditions, such as if the collocation interferes with the safe operation of traffic control equipment or with sight lines. The permit would be valid for at least 10 years and would be renewed if the applicant remains in compliance with the bill's criteria.
The authority could charge an application fee only if it charges other entities for the use of the right of way and if the fee is required for similar types of commercial development or construction within the authority's jurisdiction.
The application fee for the collocation of small wireless facilities on an existing or replacement authority pole could not exceed $100 each for the first five small wireless facilities on an application and $50 for each additional facility on the same application.
The application fee for the installation, modification or replacement of a utility pole and the collocation of an associated small wireless facility could not exceed $250 per pole.
An authority could charge companies no more than $20 annually for each collocation on an authority's utility pole.
Friesen said the city of Lincoln charges communications companies as much as $2,000 annually for each piece of equipment a company attaches to a city utility pole. Cities should be able to cover the cost of processing permit applications and maintaining utility poles, he said, but such high fees deter private investment and serve as a hidden revenue stream for local governments.
Sen. John Lowe of Kearney supported the bill, saying that it would speed the deployment of 5G technology across the state. Faster download speeds would benefit public safety, health care, education and economic growth, he said.
"LB389 will allow the private sector to pay for the infrastructure upgrades that will benefit all these areas and more, with no cost to the taxpayer," Lowe said.
Papillion Sen. Jim Smith opposed the bill and filed a bracket motion on it, which effectively would end debate on the bill this session. He said LB389 would put other communications companies at a disadvantage and would weaken local governments' ability to regulate the location and appearance of small cells. Similar legislation passed in other states is the result of compromises among competing interests, he said.
"This bill is not a compromise," Smith said. "This bill is basically a piece of legislation that has been drawn up, prepared and introduced by the wireless industry."
Sen. John McCollister of Omaha also opposed the bill, saying that wireless companies and local governments should determine the market price for installing equipment in the public right of way, not the state. Wireless companies are promoting 5G technology to make a profit, he said, and cities should ensure that they get a good price for the use of public property.
"A city has a responsibility to its taxpayers to make a return wherever they can," McCollister said.
The Legislature moved to the next item on the agenda before voting on the bracket motion, the committee amendment or the bill. Per a practice implemented last year by Speaker Jim Scheer, the sponsor of a bill that is facing a potential filibuster must demonstrate sufficient support for a cloture motion before the measure will be scheduled for additional debate.