Budget adjustments advanced with Title X restriction after cloture vote
Lawmakers gave first-round approval March 13 to four bills comprising the Appropriations Committee's adjustment proposal to the state's $8.8 billion budget.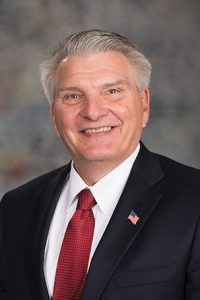 The state budget is structured on a two-year basis, with the budget enacted during legislative sessions held in odd-numbered years. Adjustments are made during sessions held in even-numbered years.
The committee's proposal would result in 0.5 percent average growth in state spending over the next two fiscal years and would leave $296.4 million in the state's Cash Reserve Fund—also known as the rainy-day fund—at the end of fiscal year 2019.
Appropriations Committee chairperson Sen. John Stinner of Gering said the proposal hewed very closely to Gov. Pete Rickett's proposal. The overall budget would maintain the state's priorities, he said, including K-12 education, property tax relief, corrections funding and maintaining the rainy-day fund.
"Our committee used this as a template for our preliminary budget and we were pretty much in sync across the board," Stinner said.
Mainline budget bill
LB944, introduced by Speaker Jim Scheer of Norfolk at the request of Gov. Pete Ricketts, was replaced by an Appropriations Committee amendment, adopted 41-1. The amendment proposes adjustments to appropriations for state operations, aid and construction programs in the current and next fiscal year.
The governor's recommendation contained an across-the-board reduction in general fund appropriations to many state agencies and operations budgets of 2 percent in FY2017-18 and 4 percent in FY2018-19.
The committee's proposal would retain the 2 percent operations budget reductions in FY2017-18 and lower the reduction in FY2018-19 to 2 percent. The University of Nebraska, state and community colleges would see a 1 percent reduction in FY2018-19. Reductions in state aid—except for community colleges—would be retained at 4 percent in FY2018-19.
Among other provisions, the amendment also would provide $55 million to the state Department of Health and Human Services to cover increased child welfare costs and $15 million to offset reductions in the federal Medicaid match rate.
Debate focused on a proposed change to the use of Title X funding that would impact disbursement to health clinics that also provide abortion services.
Nebraska receives funds from the federal Title X program that are used to subsidize reproductive and preventive health services, including the diagnosis and treatment of sexually transmitted diseases, cancer screenings and family planning services. Federal grant funds dispersed by the state through the program cannot be used to perform abortions.
A provision included in LB944 would prohibit federal Title X funds from being paid or granted to an organization that performs, assists, provides counseling in favor of or refers for abortion services. An otherwise qualified organization that is affiliated with, but objectively independent from, such an organization—which the bill defines as legal, physical and financial separation—would not be disqualified from receiving funds under the bill.
Sen. Adam Morfeld of Lincoln opposed the provision, saying it targeted Planned Parenthood, which provides health care to 8,000 of the 28,000 Nebraskans who utilize Title X funding. Many low-income men and women would lose access to vital services if entities that provide abortion services are not able to comply with the provision, he said.
"There are not enough agencies to provide the services as it is, and that's one of our big problems," Morfeld said. "This is about trying to shut down an agency that provides a lot of non-abortion services."
Syracuse Sen. Dan Watermeier disagreed. The provision is not directed at any specific entity, he said, and clinics that provide abortion services could continue to do so if they maintain a clear delineation between Title X funds and abortion services.
"If every single one of these dollars went to Planned Parenthood for them to provide services, I'm fine with that," he said. "We need to have a very strict, concrete wall so that we do not lose the $1.5 million of Title X funding. And this amendment inside of the budget bill does exactly that—no more and no less."
Heartwell Sen. John Kuehn said a recent state audit showed that Planned Parenthood had misused Title X funds for abortion services in violation of state and federal law. The error placed all of the state's Title X funding at risk, he said, and without clarification funds still could be misused to provide abortion services.
"We don't have to suspect, we don't have to speculate," Kuehn said. "We already have clear, definitive evidence that it has taken place."
Sen. Anna Wishart of Lincoln said the audit findings were the result of coding errors. She said the issues were addressed by the state Health and Human Services Department through oversight and monitoring recommendations outlined in the audit without the language in LB944, which she said could negatively impact all of the state's Title X providers by potentially putting them in conflict with federal referral requirements.
Lincoln Sen. Kate Bolz offered an amendment that sought to clarify the Title X provision by mirroring federal regulatory language. She later withdrew it, saying lawmakers would work on a compromise before the bill is considered again on select file.
After six hours of debate, Stinner offered a motion to invoke cloture, or cease debate and vote on the bill. The cloture motion was adopted 33-3, the minimum number of votes required. Lawmakers then voted 38-6 to advance LB944 to select file.
Cash reserve
LB946, also introduced by Scheer at the request of the governor, would transfer $108 million from the Cash Reserve Fund to the General Fund. It also would reduce by $2.3 million a transfer from the Nebraska Capital Construction Fund due to the lower cost of the Central Nebraska Veterans' Home project.
An Appropriations Committee amendment, adopted 37-9, became the bill and reduced the proposed $108 million transfer to the General Fund to $100 million. It also would change the timing and individual transfer amounts to the Nebraska Capital Construction Fund related to the heating, ventilation and air conditioning project at the state Capitol Building.
Stinner said the changes would ensure adequate cash flow for the current phase of the HVAC project but would not increase the transfer amounts or the project's total cost.
The amendment would leave the rainy-day fund at $296.4 million, he said, which is more than the 2.5 percent in excess of the state's appropriations and obligations that is required by state law. That number would be $250 million, he said, which also is the median for state contingency funds across the United States.
"[We need to] build this reserve back to be ready to put us on good financial and fiscal ground," Stinner said. "I think that this is a beginning. I think that $296 million is a good number."
Lincoln Sen. Kate Bolz, vice chairperson of the committee, said the $100 million transfer to the state's General Fund was done by the committee in support of priorities that have consensus support among lawmakers, including funding K-12 education, the state's pension obligations, the state Department of Corrections and protecting the property tax credit program.
She said the ultimate goal is to build the cash reserve back to $740 million, which would be the recommended level of 16 percent of the budget. For that reason, she said, when the state's economic forecast improved in February, that revenue was designated for the Cash Reserve Fund.
"The cash reserve has allowed us to smooth out some of the rough spots in the budget and protect our priorities into the future," Bolz said. "We have not only goals to protect our priorities but also goals to protect our cash reserve and to build that cash reserve back up to a level so we can have comfort into the future to manage contingencies as they come forward."
Kuehn opposed the amendment, saying the cash reserve would be reduced to a level that would leave the Legislature "hamstrung" in efforts to deal with looming issues such as prison overcrowding and underfunded public schools.
The cash reserve has decreased from $680 million to less than $300 million, he said, in part by using those rainy-day funds to plug holes in the budget for ongoing expenses.
"I'm not sure how long it's going to continue to rain," Kuehn said. "And I have significant concerns that we have taken down the balance in our cash reserve to a point where some of the other major priorities and large expenses that this body may need to address in the next couple of years cannot be adequately covered through cash reserve transfers."
Echoing those concerns was Columbus Sen. Paul Schumacher, who told lawmakers that they are "in freefall with a noose around [their] necks" in relation to the state's economic situation. Nebraska is at nearly full employment and the agricultural sector is normalizing, he said, yet state revenues are not rebounding.
In addition, he said, the state continues to spend more than it takes in while reducing revenue through incentive programs and giving tax cuts that have not produced the growth that they promised.
"There are some truths that are self-evident," Schumacher said. "And the truth that is self-evident is we are in really bad financial shape and we are making it worse."
Omaha Sen. Ernie Chambers offered a series of unsuccessful motions to extend debate on the bill, saying lawmakers lacked the courage to significantly alter the governor's budget recommendations.
"The easy way out is what politicians will choose," he said. "The kind of wholesale reworking [of the proposal] that ought to be done—the Legislature will never do it."
Following adoption of the committee amendment, LB946 advanced to select file on a 34-9 vote.

Other fund transfers
A number of fund transfers and changes to transfer provisions would be made by LB945, also introduced by Scheer at the request of the governor. An Appropriations Committee amendment, adopted 38-0, became the bill.
Among other provisions, the amended bill would:
• create the Nebraska Film Office Fund to be administered by the state Department of Economic Development;
• transfer the unobligated balance of the Nebraska Progress Loan Fund as of Sept. 30, 2017, to the Intern Nebraska Cash Fund;
• allow transfers to be made from the State Visitors Promotion Cash Fund to the General Fund at the direction of the Legislature and transfer $1 million to it; and
• transfer $200,000 from the Affordable Housing Trust Fund to the Lead-Based Paint Hazard Control Cash Fund.
Stinner said that the committee proposal would add $14.7 million in transfers from 19 different funds to the governor's recommendation.
"These [cash] funds are funds that we have determined to be sustainable and stable," Stinner said. "They have a source of revenue that is at least equal to the expenditures—or maybe greater than the expenditures—so we are taking excess funds and leaving them at about a break-even [point]."
Omaha Sen. Bob Krist offered an amendment that would include modified provisions of his LB679 to increase the annual transfer from the Charitable Gaming Operations Fund to the Compulsive Gamblers Assistance Fund from $50,000 to $100,000.
Krist said the fund supports the Nebraska Commission of Problem Gambling, which is unable to keep up with the growing demand for services to those with gaming addictions.
"This is simply a transfer from [the Charitable Gaming Operations Fund] to make sure that they have adequate funds to move forward," he said.
Sen. Carol Blood of Bellevue opposed the amendment, saying the commission's expenditures last year used almost all of its $1.88 million appropriation. Those funds serve only 300 people annually, she said, while other forms of addiction impact far more people and receive far less funding.
"I don't feel they're being efficient with their money," she said. "I don't feel that they understand the many, many departments that have really had to tighten their belts."
The Krist amendment was adopted on a 25-13 vote and the bill advanced to select file 35-8.
Also advanced was LB950, introduced by Business and Labor Committee chairperson Sen. Joni Albrecht, which would provide for payment of claims against the state. If a person sues the state, he or she files with the state claims board. Approved claims exceeding $50,000 must be reviewed by the Legislature.
LB950 includes tort and workers' compensation claims totaling $1.65 million, along with several agency write-offs totaling $978,000 for various uncollectable debts.
A committee amendment, adopted 33-0, added two claims to the bill that were processed after the bill was introduced. Following adoption of the committee amendment, senators voted 36-0 to advance LB950 to select file.