Records exemption for public power utilities sought
The public power industry would not be required to provide certain records to the public under an amendment considered by the Natural Resources Committee in a hearing March 7.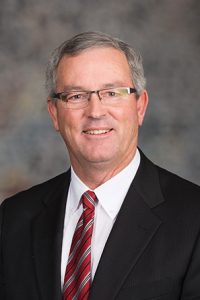 Introduced by Sen. Dan Hughes of Venango, LB822 was proposed to make a technical change to state law relating to the duties and responsibilities of the state Department of Natural Resources.
Hughes has filed an amendment that would replace the bill. Under the amendment, the public power industry would not be required to release proprietary or commercial information if it would benefit business competitors.
Hughes said he introduced the amendment in response to a Nebraska Supreme Court decision made in February. The justices reversed a Platte County District Court's decision that would have allowed the Nebraska Public Power District to withhold proprietary information from a competitor that had requested documents showing cost and revenue information for each of NPPD's generation units.
The Supreme Court wrote that, in order to withhold the information, NPPD had to show that releasing it would give an advantage to competitors and serve no public interest. It overturned the lower court's decision because NPPD did not prove the second element of that two-pronged test.
Hughes said the decision could have significant effects on Nebraska's public power utilities and ratepayers. Both courts interpreted relevant public records statutes differently, Hughes told the committee, and both speculated on the Legislature's intent.
"I believe that the courts want the Legislature to clarify its intent as to whether we want public power in Nebraska to open its records to give an advantage to its competitors," Hughes said.
Testifying in support of the amendment on behalf of the Lincoln Electric System and the Nebraska Power Association was LES vice president and general counsel Shelley Sahling-Zart. She said that the Supreme Court's ruling is "an immediate concern" and that AM2191 would allow LES and other public power utilities to protect proprietary and confidential information that would give private competitors an edge.
The Nebraska Athletic Department's budget, schedules and employee salaries are freely available, Sahling-Zart said, just as similar information is available from other public entities, including utilities. But head football coach Scott Frost's playbook is not.
"How competitive would the Husker football team be if he was required to divulge the Husker playbook, but nobody else in the Big 10 had to divulge theirs?" she said. "What we're asking you to do is protect our playbook."
Tim Burke, president and CEO of the Omaha Public Power District, also testified in support of the amendment. He said the Supreme Court's ruling could have a chilling effect on the state's economic development because companies would not want to share confidential information with public power utilities if they cannot keep it secret.
"Requiring public power utilities to disclose this proprietary information will negatively impact the strides utilities have made here in Nebraska in attracting new business and could considerably hamper our future efforts," Burke said.
Chris Dibbern, general counsel for the Nebraska Municipal Power Pool and the Municipal Energy Agency of Nebraska, also spoke in support. She said that MEAN's participation in the Southwest Power Pool—a group of utilities and power generation companies that oversees electricity infrastructure in Nebraska and 13 other states—depends on its ability to keep confidential certain electric power generation parameters and cost information.
Failing to pass Hughes's proposal would give competitors an advantage over public power, Dibbern said.
"Simply put," she said, "ratepayers would be harmed, communities would be harmed, and the Nebraska Supreme Court turned back to you, the lawmakers, to clarify this situation."
Testifying in opposition to the bill was Korby Gilbertson, speaking on behalf of Media of Nebraska. The state's print and broadcast news outlets are concerned that the proposed exemption would give broad authority to public power utilities to determine what information they disclose to the public.
"We want to help them be able to protect specific information," Gilbertson said, referring to public power entities. "We just want to make sure that [the exemption is] not so broad that they lose their accountability to the citizens of Nebraska."
Also testifying in opposition was Dave Bundy, editor of the Lincoln Journal Star. Any amendment that addresses the Supreme Court's decision should allow the public power industry to compete in a way that minimizes harm to transparency, he said.
"An erosion of those public records moves these public power providers—or at least creates the appearance of a move—further from the public and closer to a private, profit-driven operation, driving a wedge between themselves and the communities that they were expressly drafted and created to serve."
Mikel Lauber, news director for 10/11 News in Lincoln, also testified in opposition. He said restricting information that could be in the public interest erodes public trust in its institutions and limits taxpayers' ability to make informed decisions about those institutions.
"The amendment would very clearly allow information that could serve a public purpose to be withheld," he said. "That's concerning for us, and I think it would be for our viewers, too."
The committee took no immediate action on the amendment.