Increased TERC filing fee proposed
The Revenue Committee heard testimony Feb. 23 on a bill that would increase the filing fee for appeals and petitions to the Tax Equalization and Review Commission.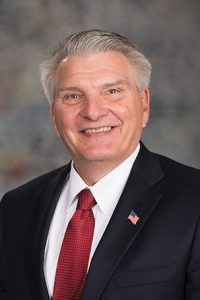 The three-member commission hears appeals of the decisions of county boards of equalization on taxation, valuation or assessment of real or personal property. The current filing fee for each appeal or petition is $25.
LB937, sponsored by Gering Sen. John Stinner, would create a new fee structure. For each appeal or petition regarding the taxable value of real property, the fee would be $40 for a parcel with a taxable value of less than $250,000. The fee would increase in increments up to $100 for a parcel with a taxable value of at least $1 million. The fee for any other appeal or petition would be set at $40.
Stinner said that the filing fees currently cover only 5 percent of the commission's operating budget, with the remainder coming from the state's general funds. The fee structure proposed in LB937 would increase that to 10 percent, he said.
Raising filing fees for properties with higher taxable values would deter large corporations with multiple locations from filing annual valuation protests on those properties as part of a strategy to reduce costs, Stinner added. For example, he said, he easily could file a protest every year for each of the eight locations that his bank operates.
"Every year I could have a tax protest for 25 bucks—$200 is what I've got at risk," Stinner said. "That doesn't make a whole lot of sense to me."
Rob Hotz, a TERC commissioner, testified in support of the bill, saying the current filing fee has been in place for more than 20 years. He said the base fee would be increased for inflation and that the new fee structure would be less regressive because parcels with lower values would have a lower filing fee than those with higher values. The change would generate an additional $50,000 in fees each year, Hotz added.
Also testifying in support of the bill was Tom Placzek, speaking on behalf of the Nebraska Association of County Officials. He said the current filing fee is so low that many property owners file a protest without a strong intention to follow through. In Platte County, Plazcek said, approximately 10 to 20 percent of those who file a protest do not show up at their TERC hearing.
"You just spend hours and hours and hours on each one of these cases, and then to not have anybody show up is disheartening," he said.
No one testified in opposition to the bill, and the committee took no immediate action on it.